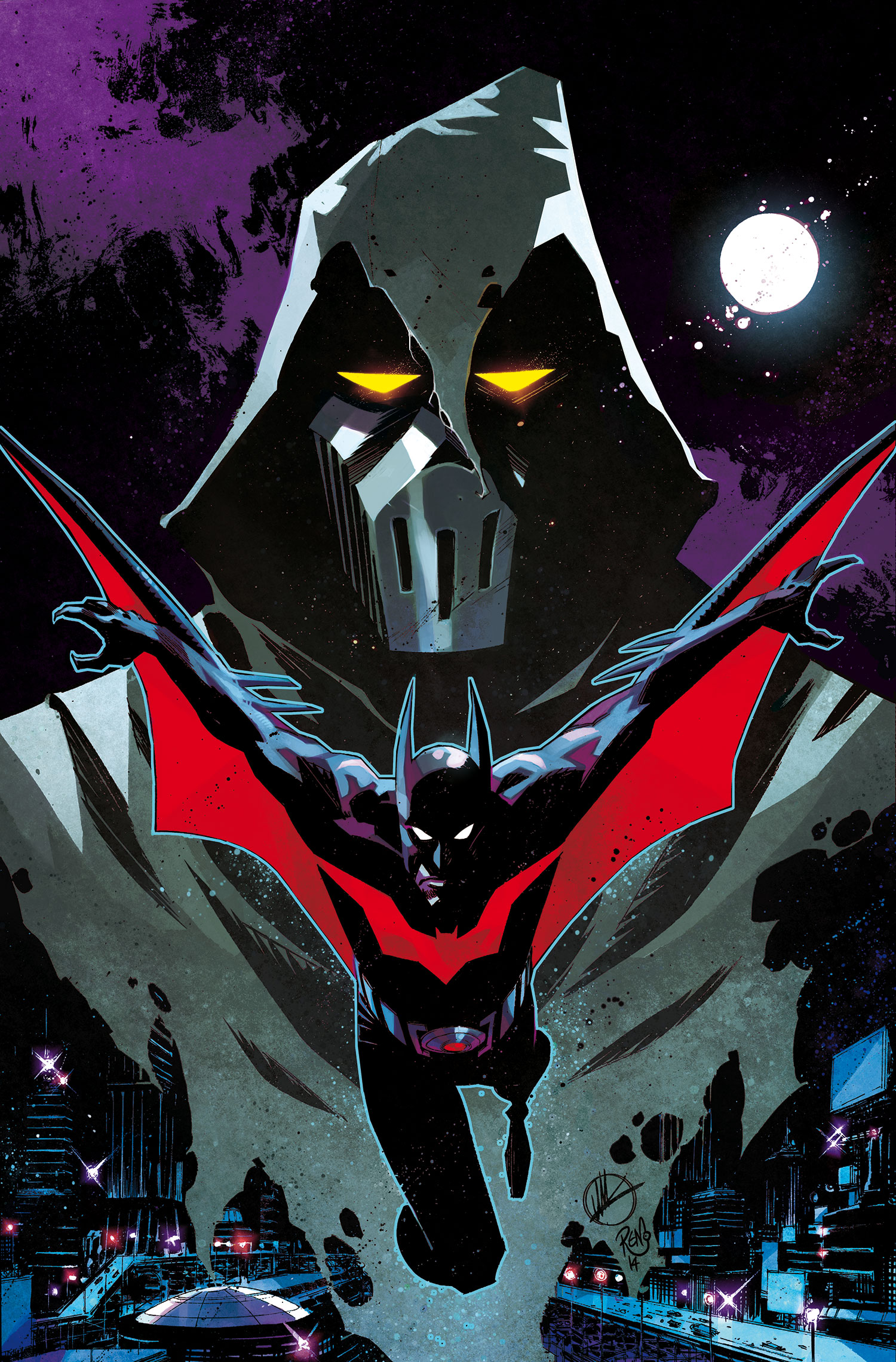 By: Kyle Higgins & Alec Siegel, Phil Hester; Eric Gapshur; Craig Rousseau; & Thony Silas (art), Nick Fillardi & Guy Major (color)
The Story: What finally broke two generations of the Batfamily?
The Review: It kind of feels like a new dawn for Batman Beyond Universe. Gone is the JLB co-feature and much of the continuity the franchise has gained in comics. Bolstered by call backs to the DCAU's two biggest animated features, Batman Beyond #13 feels like an event, even on the tails of the "Justice Lords Beyond" arc.
The one element that viewers of the classic television series might not be familiar with is the new Vigilante who the issue informs us teamed up with Terry in "Batman Beyond: 10,000 Clowns". Vigilante is actually the instigator of most of the issue's drama, but the core of this story lies solely on Bruce Wayne and his young protégés.
It must be somewhat intimidating to finally reveal the details of one of the DCAU's biggest secrets after a little over fifteen years, but, if so, Kyle Higgins and Alec Siegel don't show it for a moment, eagerly adding in the answer to one of this series' most speculated upon questions. So if you want to know how Bruce fell out with Dick, Terry, and Barbara, this is required reading.
One of Kyle Higgins' strengths over the course of his run has been giving the Bruce/Terry feud a respectful and visceral portrayal. That continues this issue, with Bruce's need for control played as a flawed outgrowth of his concern for his partners. It's not hard to see how his gruff demeanor strangles the best of intentions.
Continue reading →
Filed under: DC Comics, Reviews | Tagged: Alec Siegel, Barbara Gordon, Batman Beyond, Batman Beyond Universe, Batman Beyond Universe 13, Batman Beyond Universe 13 Review, Bruce Wayne, Commissioner Barbara Gordon, Craig Rousseau, Dick Grayson, Dick Grayson (Beyond), Eric Gapshur, Guy Major, Kyle Higgins, Mark of the Phantasm, Nick Filardi, Phantasm, Phil Hester, Terry McGinnis, Thony Silas, Vigilante (Beyond) | Leave a comment »