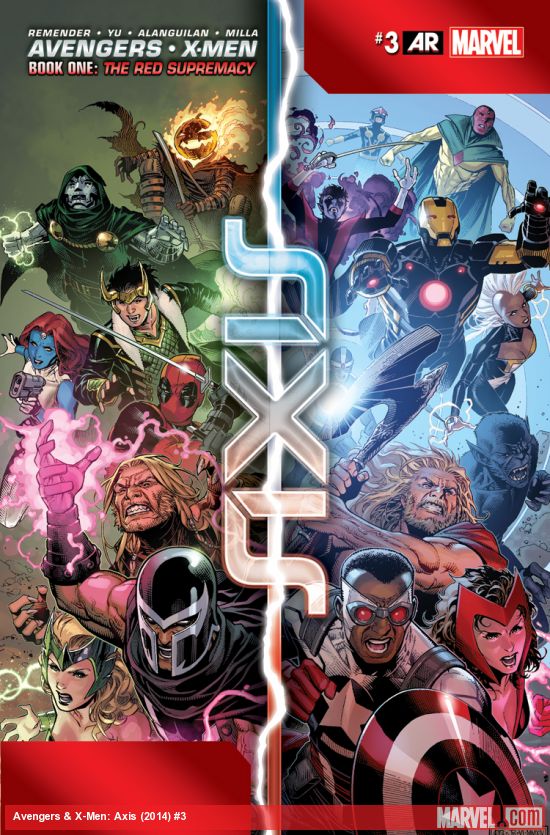 By: Rick Remender (Writer), Leinil Francis Yu (Penciller), Gerry Alanguilan (Inker), Matt Milla, Laura Martin, Edgar Delgado (Color Artists), Chris Eliopoulos (Letterer), Jim Cheung, Justin Ponsor (Cover Artists)
The Story: Witness another schism, the result of a civil war between the Avengers versus the X-Men. Next up? A dark reign where villains seem to be heroes. The only original sin here would be lack of novelty. Oh, the inhumanity!
The Review: Okay, first impression– Again with the quips!?? I mean, Deadpool's humor actually works and comes from a character known for non-sequiturs and hyperbolic randomness with liberal dashes of pop culture. Ditto, to some extent, for Loki. But when nearly every other new character shows up with the same attempt at one-liners, such as the Enchantress remarking about fondue parties, it comes across as bland NOT distinctive. At worse, various characters lose their individuality– no matter how many times Carnage can drop a "yo!" in his dialogue (get it? he's *redneck* you see), it's too distracting to see him playing well with others and even joking about "courtesy" with the Absorbing Man.
This lack of distinction highlights the fact that really the choices of the villain-team seem arbitrary to the point of meaninglessness. There's no reason why Magneto should have sought out Carnage or Hobgoblin or any of them, specifically. Perhaps he did in fact track down, say, the Melter, who is infinitely a better choice than Sabretooth when fighting giant robots, but, you know. Even Mystique, whose face-shifting powers could conceivably confuse a specifically hero-hunting Sentinel, is set against the Red Skull during the fight. Strategize, Magneto. Strategize.
(The exception here seems to be the Enchantress. Despite my quibble with the assumption here that her powers are basically nothing but "love magic," she actually succeeds in taking down the Red Onslaught, if you think about it. However, her usefulness done, she's scuttled to the side so the Scarlet Witch can take the stage and cast the "inversion" spell and change the world, as she so often does. Why the heck couldn't the Enchantress have done that?)
Filed under: Marvel Comics | 2 Comments »