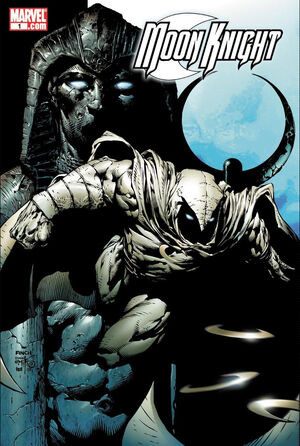 by Warren Ellis (Writer), Declan Shalvey (Artist), Jordie Bellaire (Colorist)
The Story: It takes a special kind of crazy to assume that a completely white suit will always stay clean while going into a sewer to fight crime.
The Review: Moon Knight is a strange character with a special history. First created as an antagonist in a Werewolf by Night comic, Marc Spector then gained a bit of a following with his own title, with Doug Moench and Bill Sienkiewicz putting quite a lot of mythos behind his stories. Many years later, after the cancellation of said title, the character has been in the hand of many other writers, with most of them trying to bring him back, yet with a twist. Charlie Huston, Gregg Hurtwitz, Brian Michael Bendis and many others then tried to bring him back to pre-eminence, each with their own twists. Still, despite the many volumes and attempts, it seems that Marvel truly has faith in the character as he receives yet another chance in the All-New Marvel Now initiative.
Cue Warren Ellis, a celebrated writer that has done quite a lot of decidedly appreciated work in the comic medium. With a certain style that can certainly adapt itself to the adventures of Marc Spector and with yet another take on the crazed vigilante, could Ellis be the one to finally make it work?
In many respects, Ellis does manage to breathe a whole new life in the character, but also in the way he operates. The major success of the writer, though, rest in the portrayal of the titular hero himself, giving him a sharp personality. With a certain penchant for sophistication, yet not devoid of a certain edge, the more cynic qualities of Ellis writing manage to make him shine throughout the entire issue. He is charismatic, seemingly in control of the situation, yet also dangerous, making him some kind of ambiguous menace. Pushing forth the approach to ambiguity that made the character appealing in the first place, the issue does not still forget that this is as much an introduction as it is a re-introduction to just who and what Marc Spector is.
It's in that respect that the issue also work very well, with just enough information given to old time fans that they can feel that this is not merely a continuation of what they love as it is an evolution, an adaptation of the character in its essence. The Moench, Huston, Hurwitz and Bendis era are all referenced, implementing what happened as essential to the character, yet without putting an over-emphasis on them. This is a new chapter in the saga of the Moon Knight and Ellis takes full advantage of it without pushing the past back.
However, those who are not fans might be a bit lost, making the few first pages talking about the character a tad superfluous in the whole experience. They are handled with enough clarity as to ensure the essential experience of this opening is enjoyable and concise, yet some might be a tad annoyed that there is a certain slowing down in the first few opening and closing pages of the issue.
Continue reading →
Filed under: Marvel Comics, Reviews | Tagged: Declan Shalvey, Detective Flint, Jordie Bellaire, Khonshu, Marc Spector, Marvel, Moon Knight, Moon KNight #1, Moon KNight #1 review, Warren Ellis | 6 Comments »