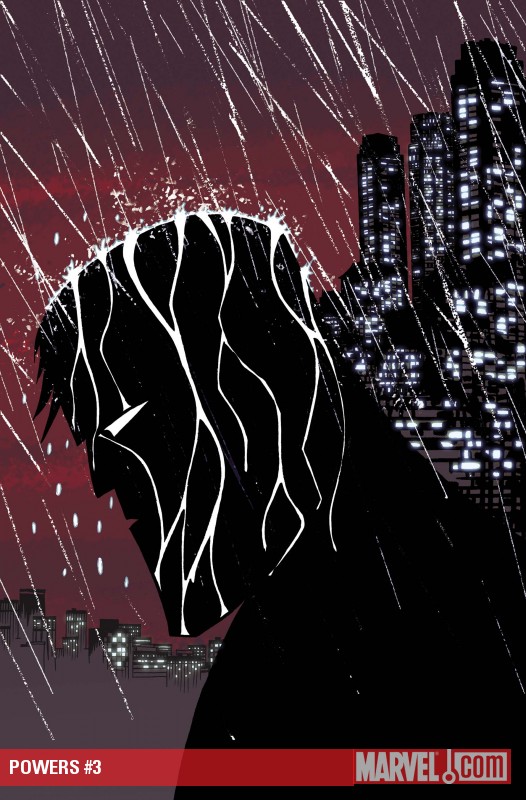 by Brian Michael Bendis (writer), Michael Avon Oeming (art), Nick Filardi (colors), and Chris Eliopoulos (letters)
The Story: It's a high-speed, super-powered chase as Walker and Sunrise try to get their murder suspect back to the station in one piece.
What's Good: This is just a gorgeous display of sequential art at its finest.  Not only is Oeming's work beautiful to look at in and of itself, but as always, his sense of narrative flow and storytelling is also creative and really fun.  Oeming's work remains explosive, yet comfortingly adorable.  He also creates a wonderful sense of atmosphere and tension throughout the issue.
As always, the actual action mirrors the panel structure (if you can call it that), giving the book a fast, organic feel.  For instance, a car drives from one panel to another, snaking its way through a double-page spread.  How can you not adore something like that?
His work on a tense scene in a sewer is also in wonderful contrast with the rest of the issue, which is a high-paced car chase.  Oeming's style easily shifts to accommodate and create a real sense of claustrophobic tension.  It's great stuff, as is that car chase, which explodes with a real sense of speed.  Colorist Nick Filardi also helps quite a bit and the usage of light in the sewer scene is amazing, telling a story in itself.
On Bendis' end, the chase itself is perfectly paced.  There's also a very well timed flashback towards the end of the issue that both feels natural and surprising; it feels like it came out of nowhere, yet also satisfies.  Bendis also hits you with one big, badass ending to this issue.

What's No So Good: Despite being 41-pages, this really is just a single chase scene with a big development at the end.  Is it thrilling and fun?  Yes.  But it's also a lightning fast read and the pages do go flying by.  It's hard not to be consciously aware of being 30 pages in with very little plot progression.  This only stings all the more given the delay this issue has experienced in coming out.  The fact so little really moved forward in a double-sized issue also grates a bit, even if it is very pretty.
I think a lot of this also has to do with all of the splashes and spreads.  While they are all very pretty, I do feel as though there were simply too many.  Frankly, it's a good thing this is 41-pages though, since were it 22 pages, it would be pretty inexcusable as it would've taken all of 3 minutes to read.
It's also a bit of a shame to get such a big issue of Powers, only to have it be so devoid of real dialogue, something that's always distinguished Bendis and Oeming's series.  Here, the dialogue is intermittent and there's just not that much there.
While the series as a whole does progress thanks to the last few pages, this issue is something of an unpleasant surprise as you begin to realize, as the pages rapidly fly by, that it's just one single chase sequence.
Conclusion: I have to respect any book that even uses the inside back cover, but despite this and the awesome art, I still wish there was a bit more meat to its narrative.
Grade: C+
-Alex Evans
---