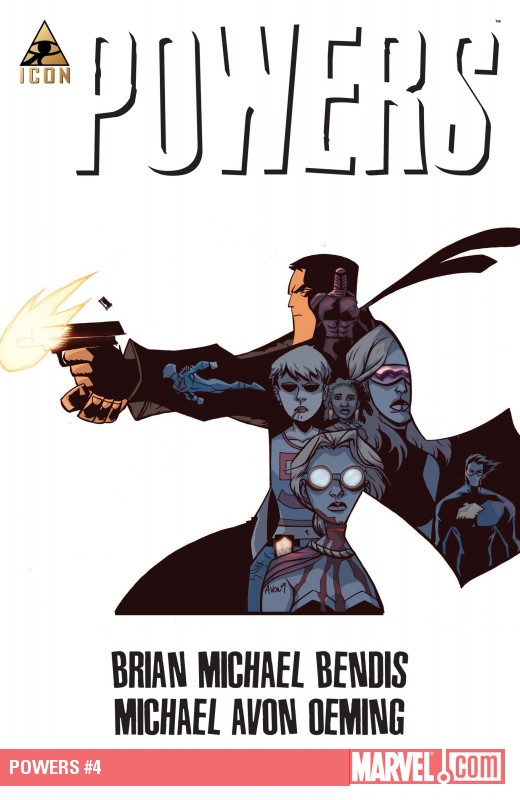 by Brian Michael Bendis (writer), Michael Avon Oeming (art), Nick Filardi (colors), and Chris Eliopoulos (letters)
The Story: Walker and Sunrise's murder investigation comes to a close.
What's Good: It's satisfying to see Bendis and Oeming planning for the long haul.  This issue the creation of what should be a new antagonist for the series for some time to come.  A great deal of detail is added to Erika Broglia's character, a mixture of trauma and a twisted sense of tradition.  She ends up being a very interesting character and this issue leaves her in a very intriguing position, one where the door is left very much open.  It's satisfying to see a character that could have been so easily clichéd be given so much depth.
But Erika's not the only character brought to the table this month.  As last month's cliffhanger suggested, this is also a big issue for Billy Mace, who looks to be another series fixture in the making.  Mace occupies a unique position in the book as a figure that is in touch with Christian's past.  In many ways, he looks to act as Christian's conscience for past misdeeds and imperfections.  He's a dark character, while still being disgruntled enough to be oddly likable.  His scene with Walker is the high point of the issue, as he maintains a full conversation while literally leaping around and drinking vodka.
Mace also opens the door to another investigation of one of the more intriguing elements of Powers: Christian's memory and specifically, the functioning (or non-functioning) of the memories of those who live incredibly long lives.  Bendis does a good job of portraying the pain of this ongoing cycle of dim recollections, while hinting at more exploration to come.
Art-wise, I don't think that Oeming is physically capable of putting out a bad issue of Powers.  The scene with Billy Mace is fantastically plotted, as he bounds about the building.  Oeming is even able to make the most mundane things look dynamic and beautiful; Christian's jog in the park is absolutely amazing to experience.

What's Not So Good: Considering how massive a bombshell last month's issue ended on, I didn't feel Bendis really made the most of that momentum.  All we got was a casual conversation with Billy midway through the issue.  I guess I just expected something a little grander given the giant note the character came in on.
Also, I was a little surprised that the murder was resolved so neatly and simply.  There are no additional caveats or twists this month regarding who the killer is or how the murder went down.  You know everything you need to know about it before reading this issue and so, the case's resolution is pretty much a formality.  If anything, I was a bit surprised.   I've gotten so used to things never being as simple as they seem that when they actually are, I'm a little underwhelmed, particularly since it means that the case was basically solved after issue 2.
Conclusion: Bendis and Oeming continue to plant seeds for what should be another amazing run.
Grade: B+
-Alex Evans
---