First Impressions 6/16/10
Pale Horse #1
By Andew Cosby & Michael Alan Nelson
Price: $3.99
Brief Thoughts: Cole is a hard man who knows no hesitation with a gun or a blade.  Being a Negro in 1865, he can't afford to.  And as he cuts a bloody swath on his journey to discover why several people want him dead, he'll teach everything he knows to one person:  his 3-year old son.  Pale Horse was a fantastic read, especially if you're a fan of westerns in the vein of Unforgiven or The Man with No Name trilogy.  Heck, if you're a fan of bloody revenge stories that are well told with great art, then this is well worth the price of admission.  Cosby tells a violent tale that's instantly captivating and it's perfectly brought to life by Nelson's artwork.  Boom! continues their trend of putting out really good comics in all genres. Click here to read more.
Verdict: Give it a shot.  Definitely.
Amazing Spider-Man Presents Black Cat #1
By Jen Van Meter & Javier Pulido
Price: $3.99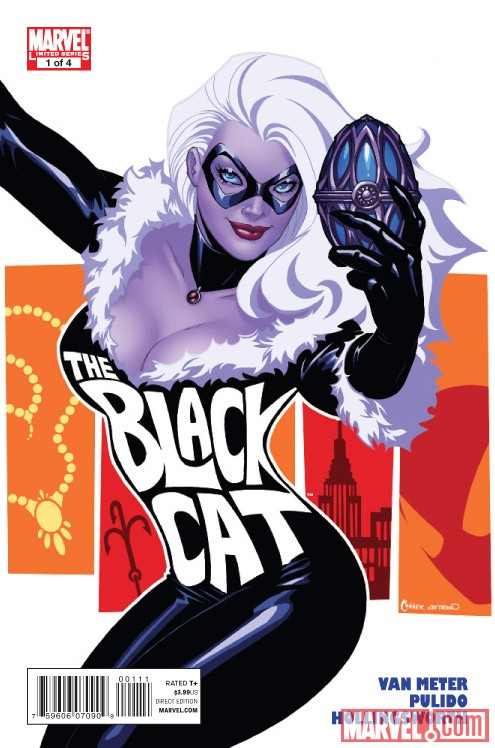 Brief Thoughts: Javier Pulido was born to draw caper/heist stories.  He was also born to draw Spider-Man.  While he's no Marcos Martin on that last point, he certainly does a wonderful job with the little Spidey he's given here.  Unfortunately, he's penciling a Black Cat comic book, and surprisingly, his rendition of the femme fatale is lacking.  Van Meter's script is also lacking, sadly.  While there's certainly interest in meeting Black Cat's support staff and trying to figure out why someone is framing her, the tale comes off feeling too light and ordinary to justify the four dollar price tag.  Softening the monetary blow somewhat is an 8-page back-up that serves as a prologue to the Grim Hunt storyline beginning in Amazing Spidey this week, which is actually intriguing.  Every little bet helps right? Click here to read more.
Verdict: Save your dough.
New Avengers #1
By Brian Michael Bendis & Stuart Immonen
Price: $3.99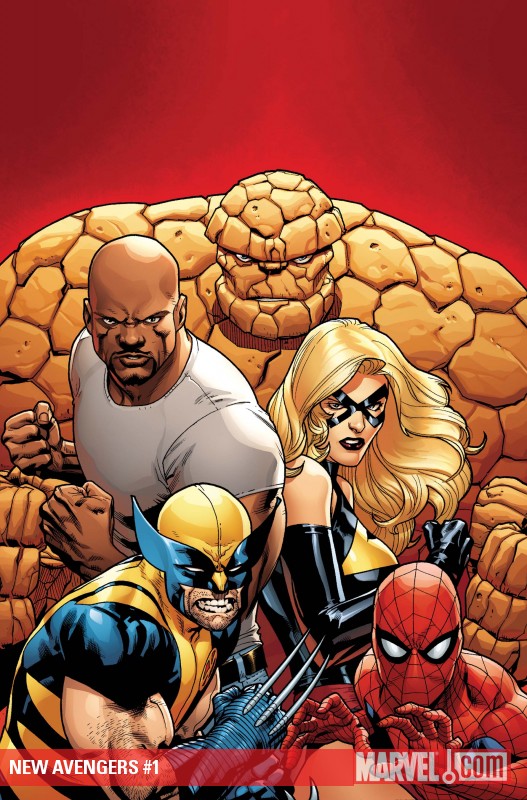 Brief Thoughts: Well, I'm not really sure why we needed a new issue #1 for this series, but Bendis and Immonen sure make it so much fun to read that you certainly forget that little annoyance.  While Avengers #1 a few weeks ago felt a bit stiff and disappointing, New Avengers' premiere issue continues the fun "group of buddies" tone that the series has always succeeded with.  Adding the ultimate Marvel Universe uber-buddy in the Thing to the cast just injects this title with even more potential.  The tale, concerning something stalking the mystical experts of the MU is also pretty intriguing.  The Avengers oral history also continues as a back-up, and while it's nothing spectacular, it certainly makes the issue feel a bit meatier. Click here to read more.

Verdict: Give it a shot.

Joker's Asylum II: The Mad Hatter #1
By Larry Quinn Walker,  Keith Giffen, and Bill Sienkiewicz
Price: $2.99
Brief Thoughts: I've never been a fan of the Mad Hatter, so it's pretty predictable (to me at least) that I was going to not be a fan of this particular one-shot.  Walker's tale of the Hatter and his twisted psyche as he tries to find a new "Alice" is brought to life superbly by Giffen and Sienkiewicz.  If I enjoyed anything about this issue, it was their artwork and their visual choices.  If you're a fan of either penciller's, this issue is definitely worth your time.  In the end, though, I'm a story guy and this tale and choice of subject left me cold. Click here to read more.

Verdict: Save your dough.
Disney's Darkwing Duck: The Duck Knight Returns #1
By Ian Brill and James Silvani
Price: $3.99
Brief Thoughts: Like many people my age, I was a big fan of Disney's Afternoon block of cartoons, which included Darkwing Duck, a comical (and duck-ified) take on Batman.  Even with that sweet whiff of nostalgia, I figured I'd, at best, not hate this issue.  I definitely didn't think I'd like it, but, boy, was I wrong.  This was a fun script by Brill that had a quite few gags that made me, if not laugh out loud, smirk strongly.  The writer basically does his version of The Dark Knight Returns, showing how Drake Mallard deals with life after giving up his alter-ego.  Laugh out loud kudos go to the Starbucks commentary (especially true here in NYC) and a sequence showing the worst nightmare of every person who's downloaded a song illegally at least once in their life.
Verdict: Give it a shot.

Classic Red Sonja Remastered #1
By Roy Thomas and Esteban Maroto
Price: $3.99
Brief Thoughts: I've never actually read any of Roy Thomas' famous run on Savage Sword of Conan, one issue of which this issue reprints.  I can see why some readers would enjoy it.  I'm not one of those readers, unfortunately.  Reading older comics in the here and now can sometimes be a bit of a chore.  While there's a certain charm to the overly-wordy, caption-filled comic books of decades past, it's a double-edged sword as there's always the risk that certain stories have not aged well.  While this tale of Red Sonja hasn't exactly done that, it still has lost some of it's fluidity in narrative flow.   For completists and readers who'd like to sample these older stories for relatively cheap only.
Verdict: Save your dough.
The Light Bumper Edition
By Nathan Edmonson & Brett Weldele
Price: $4.99
Brief Thoughts: I didn't know what to expect when I picked this up, but two issues (This "Bumper Edition" collects the first two issues of the miniseries.) for five bucks sounded like a deal to me, and I was pleasantly surprised when I finished reading.  Edmonson's script about a mysterious virus that infects people when they look into any electric light is a slow burn, but before you know it you're engrossed in the plot and the journey of his unlikely protagonists.  Brett Weldele seems to be from the school of artists such as Ben Templesmith and while it's certainly not everyone's cup of tea, it definitely works to evoke the creepy and dark mood of Edmonson's narrative.  I'm not clear on where this miniseries will be taking me (although there are some hints to be had after reading Edmonson's text pieces which close off each chapter) but I'm curious enough to go along for the ride.
Verdict: Give it a shot.
Joker's Asylum II: Harley Quinn #1
By James Patrick and Joe Quinones
Price: $2.99
Brief Thoughts: Pointless?  Sure.  Does it matter in terms of continuity?  Probably not, as I'm hard-pressed to even place it in any certain time-frame.  But is it fun?  Oh yeah.  This was a cute little diversion if you've got a few extra bucks and have an itch to dip your feet in the Bat-universe for twenty minutes.  Patrick, whom I've never heard of, delivers a pitch-perfect Harley Quinn tale that Paul Dini himself would be proud of as the insane clown queen of crime goes to great lengths to be with her puddin', the Joker, on the most romantic day of the year.  Quinones' art style and storytelling alone really make this one-shot shine, as well.  A pair of creators to look out for in the future. Click here to read more.
Verdict: Give it a shot.
-Joe Lopez
Filed under: Boom! Studios, DC Comics, Marvel Comics, Picks of the Week Tagged: | CLASSIC RED SONJA REMASTERED #1, Comic Book Reviews, Darkwing Duck #1, first issues, Joker's Asylum: Mad Hatter, New Avengers #1, The Light, The Light Bumper Edition, Weekly Comic Book Review