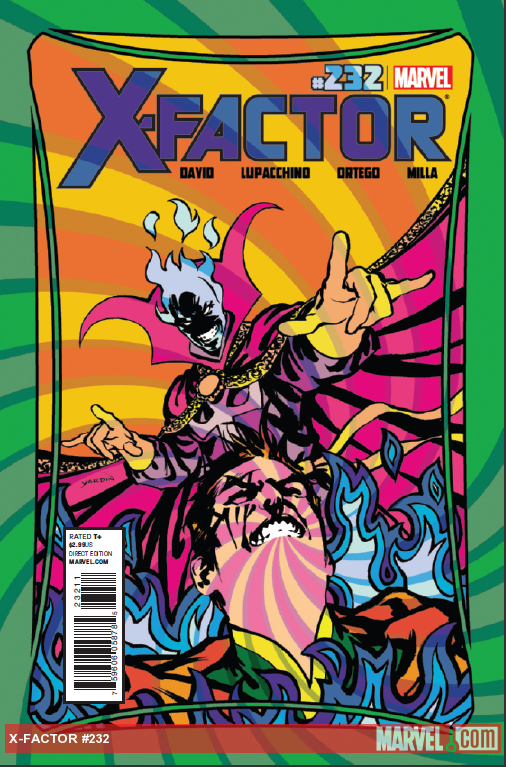 Written by Peter David, Penciled by Emanuela Lupacchino, inked by Guillermo Ortego, colored by Matt Milla.
The Story: What's behind Death #3? Well a New York City in Hell of course!
The Writing: All I should have to say here is "Peter David" and then move on. I've been reading comics for 6 years now, and I can honestly say that the only title I have never removed from my list has been X-Factor. Maybe it's the fact that even if it's dealing with parallel dimensions, cyborgs, wolf-gods, time travel, and magic, there is always an undercurrent of Noir running through it that makes all of these really bizarre stories able to link together. Take this latest arc–"They Keep Killing Madrox;" in order for Jamie to explore a new dimension and possibly find his way home, he has to keep dying (yeah, not much of spoiler when it's the title). That's mutant Noir all right. And every time he does die, the next reality is even worse than the one he came from. And even when he's looking at a New York overrun by Dormammu, he still acts and fights like a private eye. Hell, he uses a shard of a Cyttorak band as a shank! You can throw a Deathlock-Captain America, a mutant-hunting Iron Man, a very angry wolf creature, or even a sentinel at Madrox–in his head, he's still in a Raymond Chandler novel.  Even when Strange is…assisting him…he picks up Madrox's tendencies. The odd thing is, that makes David a genius, is that Noir isn't really supposed to be fun. It can be cool. Like, The Dark Knight is a "cool" movie, but calling it fun wouldn't be quite right. It's too stressful, too serious. But X-Factor, as Noir and cool as it gets, is a really damn fun book to read. It's like David is using the superhero trope to create a humor for Noir that hasn't been explored before. And if you're like me and teach literature, that sentence should have blown your analytic mind! Now, without giving too much away, when it came closer to the end, I started feeling like–given Madrox's usual luck–things were too easy. It starts wrapping up too cleanly. Until the last panel and the opportunities presented should deliver some wonderful fun. Six years–it's not that I subscribe to X-Factor–I subscribe to Peter David.

The Art: First things first–look at that awesome cover by David Yardin. LOOK AT IT! Okay, now moving on. For those Noir undercurrents, Luppacchino's art is a little too clean. Of course this could be why it read a little more "fun," so maybe that's a good thing. Personally, I would love to see Opena do an arc on X-Factor. I'm sure this arc would have turned out much darker, and maybe that would have been a bad thing. Like I said, X-Factor has a way of being Noir without being too dark. Nonetheless, a cleanly drawn hell always rubs me the wrong way. It doesn't mean Luppacchino isn't talented. His work is great, but it didn't feel like a 100% match. What I was very impressed by was Milla's colors. His coloring has an energy to it that really pushes you forward, and the fight between Madrox and Dormammu jumps off the page with the vibrant pallet. And it works very well with Luppacchino's pencils.
 Conclusion: I'm actually a little sad this arc is ending. I would have loved to see what other crazy realities Madrox could have been thrown into. Then again, the guy did die like five times. It's got to take its toll at some point. But, next month we get the "Somewhat-new, slightly-different X-Factor," so, that should be fun.
Grade: A
-Roman Colombo
Filed under: Marvel Comics Tagged: | Captain America, Deathlock, Dormammu, Dr. Strange, Emanuela Lupacchino, Guillermo Ortego, Iron Man, Jamie Madrox, Marvel Comics, Matt Milla, Peter David, X-Factor, X-Factor #232, X-Factor #232 review, X-Men, X-Men Regenesis