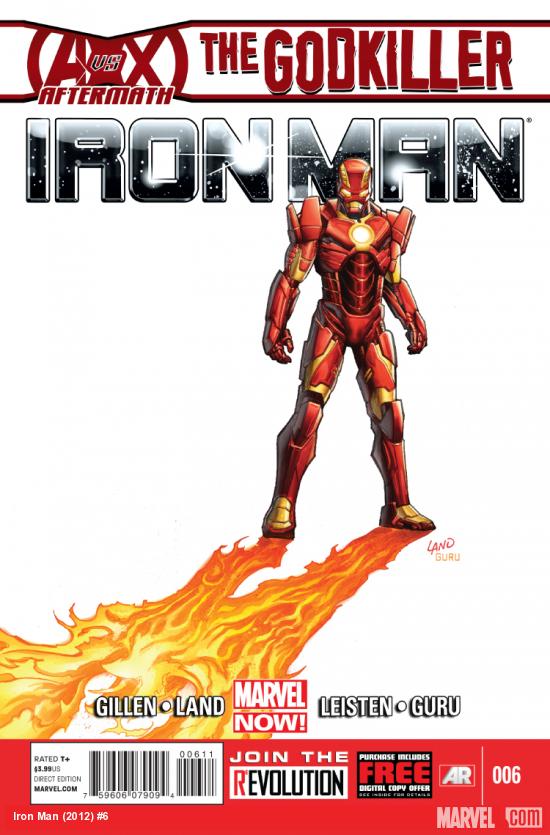 By: Kieron Gillen (Writer), Greg Land (Penciler), Jay Leisten (Inker), Guru eFX (Colorist), Joe Caramagna (Letterer)
The Review: When it comes to an ongoing series the comic industry loves a 'jumping on point'. Yet, as frequently as those come around, it's difficult to recollect a more perfect example than the first issue in Iron Man's latest story arc, 'The Godkiller'.
First, its banner clearly marks it as an Avengers vs X-Men 'Aftermath' event, and I guess if you've been reading Marvel comics at all over the last few months you'll have had at least some passing contact with that mega-selling crossover. Second: it's Tony Stark IN SPAAAAAAACCCCCCEEEEE!!! It's a bold new setting for the character, and one where you don't necessarily need to know anything about Iron Man's recent history in order to feel immediately at home. Add to that the hype that's surrounding this storyline's future role in Marvel's cosmic ambitions (as a lead-in to Guardians of the Galaxy, Nova et al) and you seem to have a potent recipe for new readership success.  However, as great an opportunity as this mid-series overhaul offers to make Iron Man a key commercial player in the Marvel NOW relaunch, I can't shake the feeling that Kieron Gillen hasn't quite made the most of it.

What surprised me most about this issue is that despite the drastic change in tone and landscape that this story brings about, it offers little in the way of a reorientation. Sure, Tony's no stranger to space: as he himself remarks, "It's not like this is my first rodeo. The Kree/Skrull war? Remember that? I'm a Veteran." But this is quite a different set of circumstances compared to that classic Avengers story. In it he had a defined role, a clear purpose. Here here he's just, what? Exploring the cosmos?  Going from 'International' to 'Intergalactic' Playboy? I guess so. This issue doesn't show him establishing any kind of base of operations or plotting out an agenda – he simply gets straight to the zero-g firefights and hitting on exotic alien chicks in deep space nightclubs. I suppose it's no bad thing – Gillen's taken the key concept here and hit the ground running – but rather than seeing our hero awestruck and inquisitive in the face of grand, operatic sci-fi environs we get exactly what it says on the tin. This is still Tony Stark. He's just in space now.
That aside, it's enjoyable enough. For the main part this issue follows Tony as he schmoozes Veritina,  a Princess and all-round purple-skinned hotty of the planet Voldi. Gillen and Land have created this new alien race for the purposes of their story, and amid the pick-up lines and come-ons there's a brief bit of exposition given to their history: "You can see our mark on many of the great cosmic dominions. From the Kree legal system to Shi'ar fashion, a thin dusting of our influence lies across those who rule…" Having been impressed at the sight of Iron Man knocking ten-shades of space dust out of some intergalactic pirates at the beginning of the issue, she's eager to get hot and heavy – though she soon finds something about Tony's appearance under the suit that isn't quite to her liking…
It's a genuinely funny moment, one among a few in Gillen's likeable script, and the levity acts as an effective lull into the real meat of this issue. Thwarted in his romantic endeavours, Tony finds himself kicked out of Veritina's chambers and into the path of some 'Mechanohoplites' who have been despatched to arrest the Armoured Avenger on charges of Deicide. It takes a while for the penny to drop but it's not long before the meaning behind the charges (and also, for us, the 'Godkiller' epithet) becomes clear. Like the good book says, "We may be through with the past, but the past ain't through with us."
Art-wise it feels like if Greg Land has any chance of pacifying his detractors (and jeez, from a quick scout around the internet there seem to be many) this storyline could be it. The main criticism often levelled against him is that his body of work appears to be overly photo-referenced…but it's hard to photo-reference an entirely new alien race. While Veritina and her fellow Voldies (?) share a predominantly humanoid appearance, there's still been a good deal of work done to ensure that they come across as distinctly otherworldly – at once removed from the usual Marvel extraterrestrials we're used to but naturally at home among them. I was also quite impressed with the eye-catching design flourishes lavished on everything from Voldi architecture to glassware.
The new Iron Man suit is still not gelling with me though, and I can't quite put my finger on why…I think it's just maybe a little too cluttered for my liking, with no one design element really standing out or pulling it all together. Still, overall it's a good looking book, and I think even the self-avowed Land haters may find something to like here.
So it's good. As a 'jumping on point' it performs its task admirably, and I'm interested to see where it goes from here. And yet…I have to say, I was expecting more. I liked the preceeding five issues of Iron Man well enough, but agreed with the general criticism brought against them; for a relaunched title their heavy emphasis on Extremis left them manacled to the events of the past. In some ways it would have made more sense for Marvel to have released those chapters as a bridging mini-series perhaps, and left this star-trekking status quo as the star of the relaunch proper. But would even that have shaken the feeling that this is a case of the Emperor's new clothes? Only time – and an impending case of inter-stellar court justice – will tell.
Grade: B-
-Matt Sargeson
Filed under: Marvel Comics, Reviews Tagged: | A vs X Aftermath, Avengers Vs X-Men, Greg Land, Guru eFX, Iron Man, Jay Leisten, Kieron Gillen, Marvel, Marvel NOW, Marvel Reviews, The Godkiller, Tony Stark, VC'S Joe Caramagna