Saturday was the big day of this year's C2E2 for me. I opened up the day by filling in the gaps in my knowledge of the convention. I walked the aisles, found the best dollar bins, and explored Artist Alley a little more thoroughly so I could mentally mark what stalls to hit later on. I had some pretty good fortune in terms of back issues. I somehow found Icon #1, all four issues of J.M. DeMatteis' original Dr. Fate miniseries, and my final issue of Tony Isabella's first Black Lightning run for a dollar each.
But time passes quickly at conventions like this and, before long, I had to run to my first panel of the day, Bombshells of the DC Universe. As with the Faces of Villainy panel, the proceedings began with an entreaty from Larry Ganem for the audience to watch the live stream of the DC Rebirth panel on March 25th, which also served as an announcement that there would be no news here today.
Nonetheless, it was a fun ride. DC Bombshells writer Marguerite Bennett spoke about the difficulty of crafting a series based in pin-up escapism but set during World War II. The answer, as would become a theme for Ms. Bennett over the course of the day, was range. She decided that not only would she seed each of her main Bombshells in different countries involved in the war but that each one would represent a different genre of the era – pulp, propaganda films, horror, Loony Toons, etc.
Yanick Paquette spoke about the upcoming Wonder Woman: Earth One OGN he created with Grant Morrison. Morrison, he said, likes to go back to the original interpretation of a character in his origin stories and "40s Wonder Woman is really weird!"
Paquette had a fascinating relationship with Wonder Woman. He obviously balked a bit at some of the excess of the early material, but also seemed to be rather on board with William Marston's female supremacist views, at least for the purposes of this project and its world. He also spoke, somewhat reverently, of Wonder Woman's comparitive pacifism. "There's almost no physical violence[ in this book]". Wonder Woman could crush almost anybody, but solving a problem through force isn't how she operates.
He also spoke about how much thought he put into Diana's design. Paquette wanted to give the impression of someone athletic, in the tradition of ancient Greece, rather than the "bikini model" look many heroines often possess. One image from early in the book shows Wonder Woman in pants, a rather nice look in my opinion, while a more traditional take from later on depicts her with shorts with six-pointed stars, an attempt to tie the character more to Greece and less to America. At this, Chad Hardin argued that there was a certain logic to the star-spangled costume as America was founded on the Hellenistic ideal. "Yeah, but so was Canada," Paquette replied.
Bennett spoke a little about Batman: The Animated Series, which introduced her to comics, revealing a couple of odd theories she developed as a four-year old. The first was the young Bennett's certainty that Batman "used to be a bad guy". This position was based entirely on Batman's somewhat villainous look in the opening to the show and led Bennett to conclude that Batman's war on crime was an attempt to atone for his criminal past, an interesting side effect of the series' lack of an origin story for the Caped Crusader. The other theory she had was that Harley Quinn had a secret superpower. Specifically, she has the power to change the genre. For thirty feet around Harley everything becomes a comedy with the rule of funny firmly in effect. It's not hard to see the effect of this childhood belief on Bombshells.
Annie Wu discussed the joys of reviving Black Canary's classic look and working with Brendan Fletcher. Fletcher's scripts, she revealed, are not so much full script as they are modified Marvel style creations focused on the particular beats of the story. That means that Wu actually determines the panel counts, panel layouts, and what costumes Dinah should be wearing. "She's fighting on a bus? She needs some fringe," she said of issue #3.
During Q&A one fan asked what artist from history the panelists would most want to work with. Paquette opted for Alphonse Mucha while Hardin chose Jack Kirby. Upon thought, Bennett decided on Henry Darger and Annie Wu said she'd be interested to see Francis Bacon's Batman.
Before the Panel closed out Bennett spoke about the fallacy of considering Wonder Woman as the 'supreme woman' because there obviously isn't any one person who can encompass all of womanhood. Having so many different women in Bombshells allows for a greater and more natural characterization for each of them. Paquette agreed, saying that women in comics are strong, but, for some reason, 'strong' always seems to mean assembling and disassembling a gun.
Before long it was time for the Women of Marvel panel. Editor Katie Kubert opened proceedings by checking in on the number of female-led titles Marvel is publishing. Despite the low numbers of a few years ago, Marvel is currently putting out twenty female-led titles with "more on the way". She also took the opportunity to announce the "Mighty Men of Marvel" variant cover promotion for this June. "This is really about showing that these are really strong, iconic men, who also happen to be sexy," Kubert said with a knowing smile.
Though it was kind of lost under the surprise of the variant promotion, the panel also announced the next title in the ___s the Marvel Universe series, The Unbeatable Squirrel Girl Beats Up the Marvel Universe, from Ryan North and Erica Henderson. The all new OGN will land in comic shops this October.
The panel also revealed that Afua Richardson will be the artist on the much-anticipated but heavily delayed new Blade series. Could this be the series that Richardson mentioned at last year's New York Comic Con? Possibly, but, given that Logan Ferber was attached to the series at its announcement, it seems a poor match for the level of creative freedom that Richardson described then. Could another series be on its way or is this a case of editorial juggling? It'll be interesting to find out.
Asked about a Jessica Jones book, Kubert stated that it was all about when Brian Bendis had time to write it, seemingly discounting the possibility of another writer picking her up, but assured fans that she'd have a significant part in "Civil War II".
Oddly enough we got confirmation that Annie Wu hasn't heard of any plans for the 'Batgirl Beyond' concept she worked on.
Asked what female characters they'd like to work on, Katie Kubert refused to answer, saying that two of them are on the way…
In between panels I snuck down to Artist Alley. I was disappointed to discover that, perhaps fueled by the Deadpool's recent foray into film, Fabian Nicieza's line was enormous. I could have waited but Cable and Deadpool signings cost $10 and, whether you count me cheap or practical, I wasn't interested in paying that much for a signature.
Instead I spoke to Marcus To and had him sign a couple of favorite issues from he and Nicieza's Red Robin run. To was incredibly gracious and fun to talk to and his thoughts on the Red Robin run were really interesting. He also reminded me that he'll be working on Joyride by Jackson Lanzing and Collin Kelly, which is out next month.
But despite all the excitement of the con floor and back to back panels showcasing the fantastic women of the Big 2 companies, the undeniable highlight of the day was my last panel of the day: Comics, American Culture, and the Black Male Image.
Moderated by a pastor and held in a room full of love, the panel was equal parts Sunday sermon, college lecture, and earnest discussion.
The panel opened with a simple question: why is it important to combat stereotypical depictions of black masculinity? "Because that's all there is," David Walker answered. John Jennings, an artist and professor of visual studies, took a more philosophical approach. The root of the word stereotype is stereos, meaning hard or fixed. It is something unchanging and uninterested in the individual. Jennings called upon the example of Trayvon Martin, saying that he was "not able to present himself as an individual, because the stereotype is standing in for everyone who looks like us." Challenging stereotypes in media is then not only a matter of life and death, but one of retraining minds to see the truth accurately.
Asked about encountering resistance from publishers, Walker said that it was not common but systemic. A chief problem during the Harlem Renaissance, he said, was that art exploring the black experience was being created on the donations of white patrons. That sort of patronage system allowed for the creation of some incredible works but it also caged many artists, who found that their money would disappear if they delved too deep into their blackness or, worse, if their patron felt that they were incorrectly depicting the black experience. Walker was quick to laugh off the idea of comparing himself to the artists of the Harlem Renaissance, but he said that every once in a while he'll find himself in a situation where someone, usually white, tells him that something isn't realistic or isn't how black people act and he'll have to tell them that they don't have the knowledge or authority to tell him how black people act. "That's the stereotype, and I'm not here to write the stereotype for you."
Stacey Robinson, an artist and afro-futurist, broke it down even further, asking " How do you instill hope in a people who aren't supposed to be here?" "We weren't brought to America to be free," he explained, "Being black and being alive in this space is a political act." With science fiction dystopias that posit space and the future as the domain of the richest and whitest and utopias that ignore the black experience entirely, the message received is that free black people do not belong in the future any more than they have in America's past or present. By depicting black people in space, in the future, Robinson argues that they not only take ownership over their story but encourage eachother to believe in their worth and humanity.
Eric Dean Seaton, creator of Legend of the Mantamaji, elaborated with an anecdote. Taking a cab to the airport, his Desi driver asked where he was from, however he phrased it in an interesting way. "Where's your heritage," he asked and Seaton had to wrestle with the fact that, quite honestly, thanks to the legacy of the trans-Atlantic slave trade, he doesn't know. "We don't know our past," he explained, "we need a future."
But it's not simply a matter of creating a capacity for hope, but creating a situation where fear is not a necessity. The men on the panel are artists, creators, they are payed to express their ideas and to phrase those ideas, but not everyone has that luxury, in fact, at any moment it feels as though this basic right can be taken or punished. "My son went to school on Halloween dressed as black Goku – I called him Broku. My seventeen year old son is going to school to express himself, and my mind goes to Darien Hunt. I'm thinking to myself 'please God, don't let my son die for expressing himself'."
One of the highlights of the panel was hearing about Night Boy, a new comic that Professor Jennings and Robinson are working on together. The story follows a young man whose older sister is killed by the police, but, instead of a traditional revenge story, our hero finds himself in a coma where he discovers he has the power to use "the potential energy of deferred dreams". With shades of Langston Hughes and Martin Luther King, the idea struck a powerful chord with me and with the rest of the audience.
The panel reached some heady philosophical heights, but before long it delved into the practicalities of creating comics friendly to the black experience. "We can build it, but will you support it?" Walker asked. Walker also pointed out that seeking the mainstream is a double-edged sword. "We've always had our distribution networks. The chitlin' circuit was a distribution network. We're looking to connect to the mainstream, but we've always commandeered spaces."
"And support doesn't mean buying stuff you don't think is good," Seaton clarified. To him it just means giving it a chance: try an issue, read a few pages at a booth in artist alley, when you tell a creator 'I'll be back for it', mean it. The panel also urged fans to talk about their favorite sleeper titles on social media at least as much as Batman vs. Superman, which doesn't need more hype, and to take a moment to write a good review on sites like Amazon if they liked it.
The panel also turned its eyes on other stereotypes, namely those that have marginalized and minimized black geekdom. The black community has always turned out in huge ways to support movies but never accepted itself as nerdy nor been given the consideration that white fans have in marketing or production. "Do you notice that? We're the least fanboy[ish] but the biggest fans!"
Comics have also been frowned upon by educators and parents within the black community, a stigma that Walker in particular didn't understand. For Walker, there is almost no reason to tell a child, especially one in a community that has struggled with an educational system rigged against them, not to read. Far from a harmful influence on black children, Walker sees them as a critical way to encourage literacy and imagination and called upon teachers and librarians to help encourage a love of comics. "Illiteracy will kill us before the police will, and the police are trying really hard."
The panel ended with calls for empathy and belief in the power of the consumer. "I write reflections of what I see in life but not in media," Walker said. Black characters are heroes and villains, fathers and daughters, fearful and resolute, doctors and convicts and every one of those has the possibility to speak to a reader who feels like they don't belong or is tired of being told that they can only be one thing. "Change starts in the middle," said Seaton, the people in charge are looking to the bottom line for guidance and they'll make sure that those running the day-to-day change if we make it clear that we won't stand for stereotypes and homogenous storytelling.
It was a simply fantastic panel and a bright end to the longest day of the convention.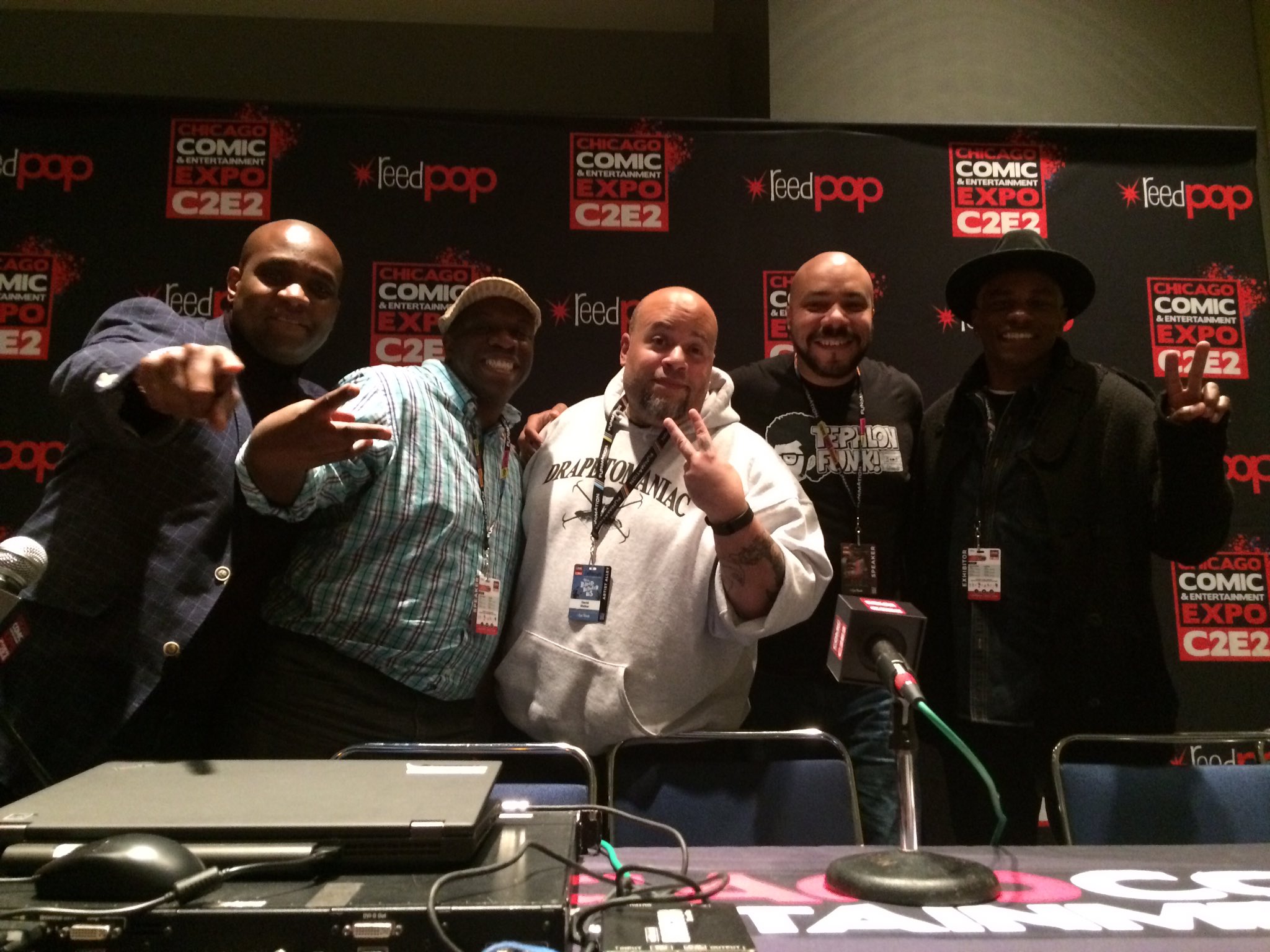 ---