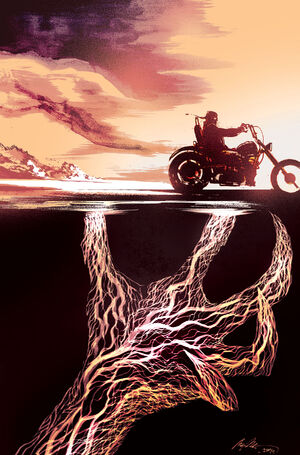 By: Scott Snyder (writer), Rafael Albuquerque (art), Dave McCaig (colors) and Steve Wands (letters)
The Story: More about the Gray Trade becomes clear and a familiar anti-hero returns.
Review (with SPOILERS): I really like the way the story is unfolding in the second cycle of American Vampire.  Here in only the third issue, we have The Gray Trader basically identified as "the devil".  And he's not some metaphysical construct either.  TGT is a corporeal being that lives in the bowels of the Earth and he takes the essence of your dead loved ones down there with him.  A single bite from TGT is enough to infect a being and turn them into his minion.  Then on the side of "good", we have the American Vampires.  We've already seen them pitted against the old-fashioned "Carpathian" vampires in the first cycle of this story.  Now we're learning that TGT basically created the Carpathians, and since the Carpathians created the AVs by mistake, the AVs are essentially TGT's wayward grandchildren.
So, while the first cycle of this story was about the AV's being an allegory for American history in the 20th century (new land, new vampires, growing into their place on the world stage).  The second cycle might be about something deeper with TGT being the inspiration for the Devil of various religions and the AVs being tasked with fighting The Devil.  There are still a lot of general ambiguities around the story.  For example, we don't know if there is something special about the AVs – some American quality – that helps them resist the evil of TGT and want to fight him.  Why are the AVs basically the same people they were in life, whereas all of the other vampires descending from TGT have an essence of evil about them?  There is still a LOT for Scott Snyder to unpack in this story.
Continue reading →
Filed under: Vertigo | Tagged: American Vampire, Dave McCaig, Dean Stell, Jared K. Fletcher, Rafael Albuquerque, review, Scott Snyder, Vertigo | Leave a comment »