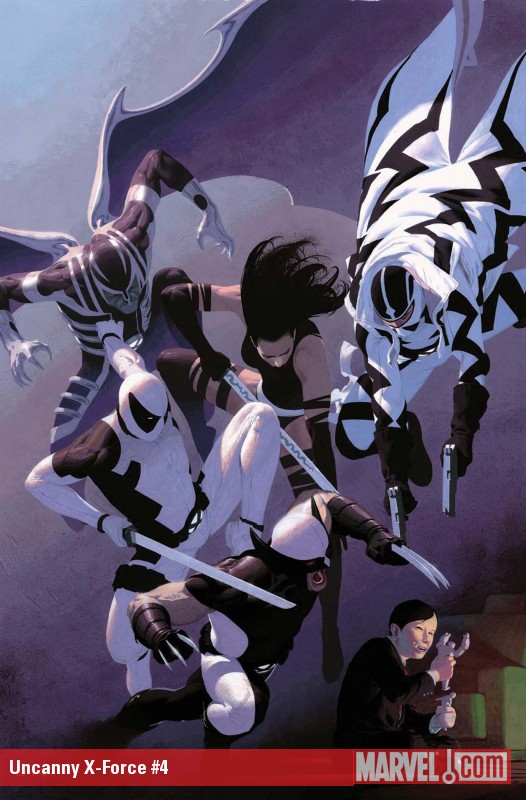 by Rick Remender (writer), Jerome Opena (penciller)
The Story: The team break into Clan Akkaba's ship, only to be confronted with the age-old question:  If you could kill an evil person when they were still just a child, would you?  By the end of the issue, the question gets answered.  With a bang.
What's Good: This was a hell of a heavy week for the X-Titles as there were eight new releases on the shelves (nine if you count Deadpool).  I've no clue why Marvel felt it was a wise choice to glut the comic shop with more than 70% of the X-Men line in one day (actually, I'm pretty sure I know exactly why), but there is one benefit of reading X-title after X-title.  The best one stands out easily, and boy, is Uncanny X-Force the best X-Men comic out there or what?  You've got Deadpool feeding Archangel his own raw flesh in order to save his winged behind, you've got nods to past X-continuity with Apocalypse's new Ship, you've got the BEST use of Archangel's paralyzing neurotoxin feathers ever, and you've got a great final act in which the team is torn apart because of a tough choice that would give anyone pause.  Speaking of that final act, Archangel truly shines in that last confrontation with Apocalypse.  Not only do we get to hear him struggle with his inner dark side, but the confrontations he has with both the villain and Psylocke are rife with tension and emotion.  I really was on the edge of my seat.  (Well, edge of my bed, but you get what I'm saying.)
Fantomex gets the most of the spotlight this go-around, as Remender gives him awfully witty lines like, "Gads!  Evil fodder types eagerly spiriting towards certain demise.  How gauche."  Awesome.  In addition to the great dialogue coming out of the (anti?) hero, we get some promising foreboding about the character's intentions towards Psylocke and, of course, there're those last few shocking pages of the story-arc.  Spoiler warning time.
(SPOILER WARNING)
I'm not terribly surprised that the "Will they or won't they kill a kid?" dilemma came up.  It was pretty obvious that's where the story was going from the beginning.  I've got to say, though, I did not expect Fantomex to be the one that pulled the trigger.  Honestly, I was never sure who the executioner would be or whether or not Apocalypse would even die.  In retrospect, it makes perfect sense, though.  This way the X-Men proper (Logan, Warren and Betsy) don't get the blood of a child on their hands, and we avoid Deadpool either cracking a joke and ruining the gravitas of the moment or killing the kid and somehow becoming all tortured and brooding.  Of course it was Fantomex!  Also, I'm excited that this allows Remender to really dig in to Fantomex, a character that for all intents and purposes is his to do with as he pleases.  Wolverine and Deadpool have their own titles, and Angel and Psylocke are X-Men with ties to other titles, but Fantomex?  Pretty much all Remender's. Oh, and that final silent page?  Pitch perfect ending.  Really.
As for the artwork?  One sentence.  Jerome Opena is a god.  (Okay, maybe not really, but wow, is he pretty freaking close!)  (Fine, two sentences.)
Continue reading →
Filed under: Marvel Comics | Tagged: Jerome Opena, Psylocke, Rick Rememnder, Uncanny X-Force, Uncanny X-Force #4, Uncanny X-Force #4 review, X-Force | 6 Comments »