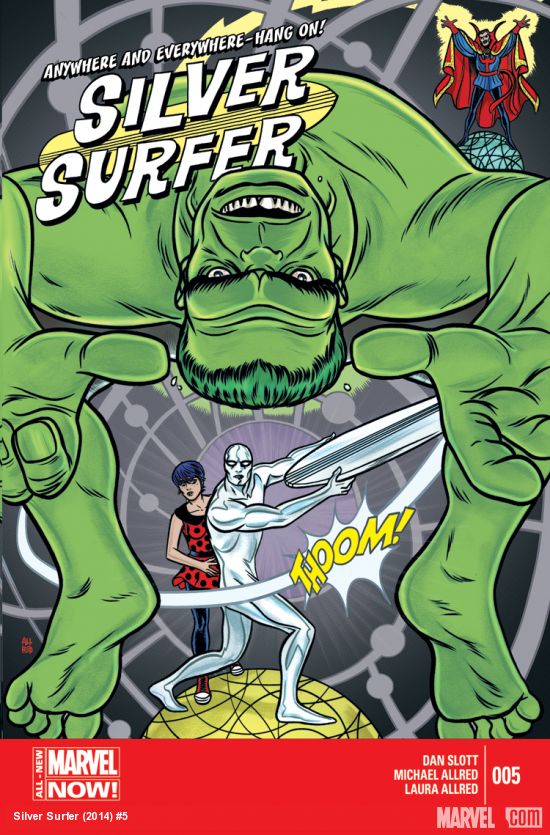 By: Dan Slott (story), Michael Allred (art), Laura Allred (colors)

The Story: The Lord of Nightmares has his worst nightmare.
The Review: Of all the new Marvel titles I've picked up this year, Silver Surfer is probably the one I find hardest to review. It's not enough for me to say that I enjoy it, which I do consistently; if my love for chicken nuggets taught me anything, it's that enjoyment is a poor gauge for quality. My difficulty with Silver Surfer is figuring out what kind of title it wants to be. Is there any depth to be had, or is it just straight sci-fi-adventure?
This issue pushes the series toward the latter. From front to back, the plot is completely self-explanatory and almost childishly simple: the Lord of Nightmares has fallen asleep and must be awaken before the night has ended lest the world sleepwalk in bad dreams forever. That this is a done-in-one should already tell you that Norrin and Dawn have little difficulty with his particular challenge, making the situation seem less dire than everyone hypes it up to be.
Continue reading →
Filed under: Marvel Comics, Reviews | Tagged: Bruce Banner, Dan Slott, Defenders, Dr. Strange, Laura Allred, Marvel, Marvel Comics, Michael Allred, Norrin Radd, Silver Surfer, Silver Surfer #5, Silver Surfer #5 review, Stephen Strange, The Hulk | Leave a comment »