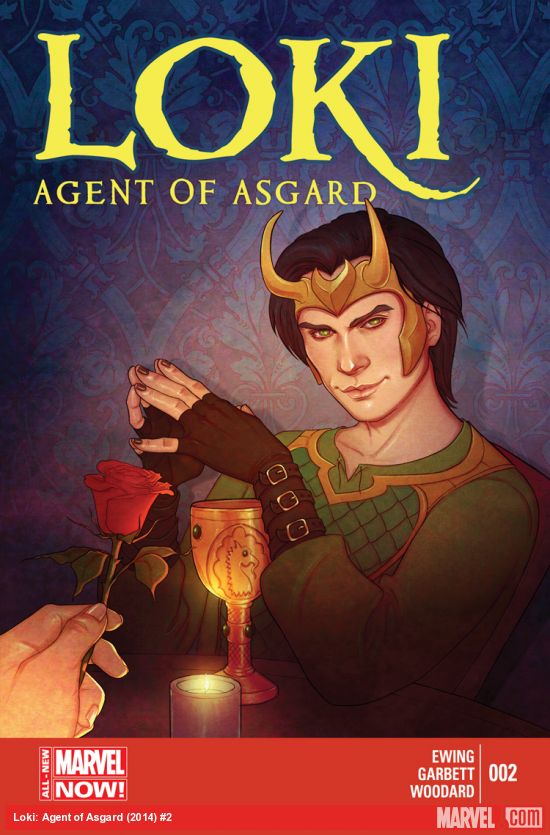 By: Al Ewing (story), Lee Garbett (art), Nolan Woodward (colors)
The Story: Loki was born for the modern dating scene.
The Review: I've heard people elsewhere criticize this series as an attempt to drive Loki towards his on-screen portrayal, and I wonder at that.  Certainly there's a rakish, snarky element to him now that's reminiscent to his appearances from The Avengers onward, although Elwing is really just following Kieron Gillen's lead there.  Anyways, this is ostensibly a new Loki for a new age of Marvel comics—for Marvel NOW, so to speak—so why not rejigger him in the process?
What I personally find suspect is this issue's focus on Lorelei in the very same week she made a guest appearance in Agents of S.H.I.E.L.D.  Now, this may just be fortuitous coincidence, but I tend to think otherwise.  What are the chances that a high-profile comic book and TV show would simultaneously feature a minor Asgardian character who is really the poor man's Amora?  Sounds a lot like business synergy to me, rather than original thinking.
Continue reading →
Filed under: Marvel Comics, Reviews | Tagged: Al Ewing, All-Mother, Amora, Lee Garbett, Loki, Loki: Agent of Asgard, Loki: Agent of Asgard #2, Loki: Agent of Asgard #2 review, Marvel, Marvel Comics, Nolan Woodward | Leave a comment »