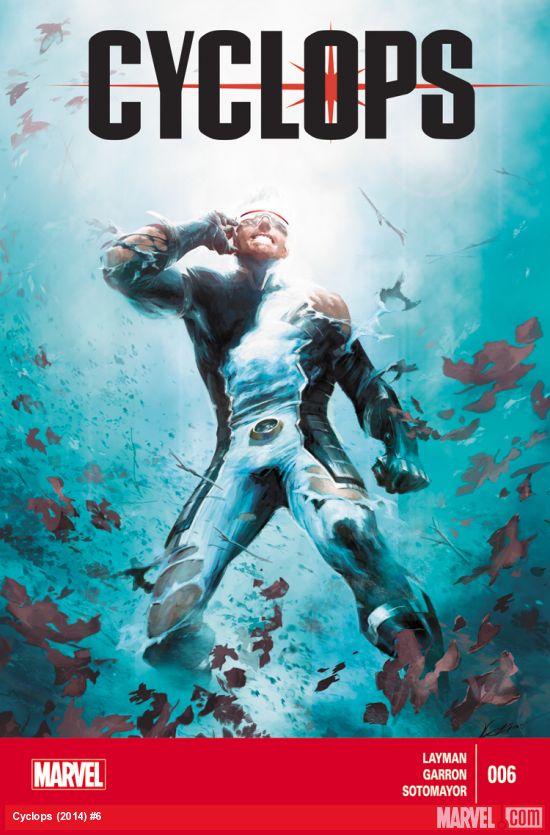 By: John Layman (story), Javier Garrón (art), Chris Sotomayor (colors)
The Story: It's not how much you scan; it's the scan you use.
The Review: Six issues in, and we have a completely different creative team on the series. I don't like it. I highly doubt this is the case, but I still have this vague feeling that we were tricked somehow. True, I have a soft spot for Cyclops as a character, but mostly I came aboard out of faith for Greg Rucka's writing and Russell Dauterman's art, and now it looks like I'll be getting neither. No offense to Layman or Garrón, but this isn't what I signed up for.
These changes only exacerbate the general haphazardness that's been part of the title since day one. When we opened on Scott aboard his dad's ship and received an introduction to all the Starjammers, it was natural to think we had a team book that happened to feature a leading X-Man. But then Rucka threw us for a loop by sending Scott and Chris on a father-son road trip through the universe, which basically lasted for a montage before turning into a castaway tale for the next three issues. Returning us to the Starjammers now feels like Layman hit the reset button, taking us back to issue one.
Continue reading →
Filed under: Marvel Comics | Leave a comment »