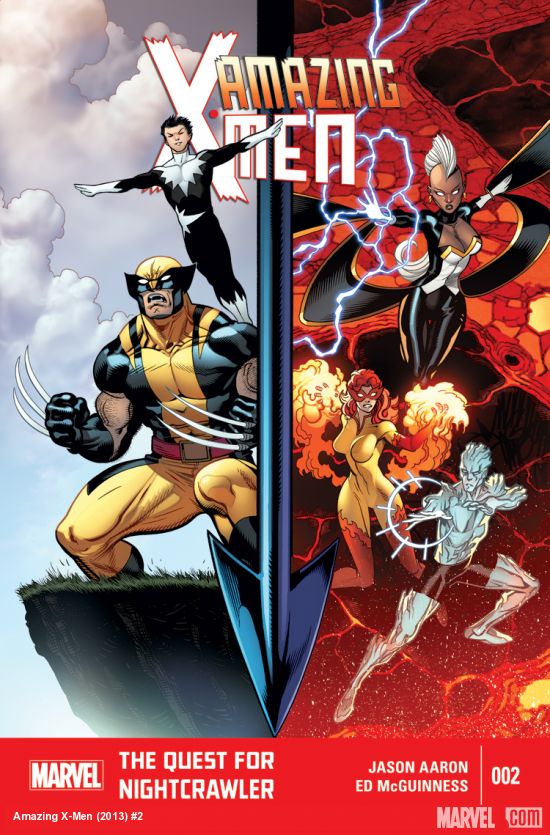 By: Jason Aaron (writer), Ed McGuinness (penciler), Dexter Vines (inker), Marte Gracia (colors)
The Story: Iceman finds himself without a snowball's chance in Hell.
The Review: As Jason Aaron's Elysian pirate epic rolls on, we find the Amazing team split between Heaven and Hell. If that sounds awesome to you, you're probably not alone, as, at the least, Aaron seems to be plenty pleased with the sheer scope of his tale.
Fans of Aaron's work will remember that he previously took Wolverine to Hell in the previous iteration of Logan's solo series. Despite that rather grim take on Logan, Aaron's also become known for the madcap, comedic style of Wolverine and the X-Men. Fittingly, this issue demonstrates elements of each of those runs.
The tone is definitely more in line with Aaron's more recent work, focusing on the madness of the situation rather than the horror; however the narration of the issue makes sure to reinforce the stakes. I expect that this will register differently depending on the reader. Just as some may find the balance refreshing, others may wish that the book would pick a tone and stick with it.
(more…)
Filed under: Marvel Comics | Tagged: Amazing X-Men, Billy the Kid, Captain Jack, Captain Kid, Dexter Vines, Ed McGuinness, Firestar, hell, Iceman, Jack the Ripper, Jason Aaron, Marte Gracia, Nightcrawler, Northstar, Storm, Wolverine | Leave a Comment »