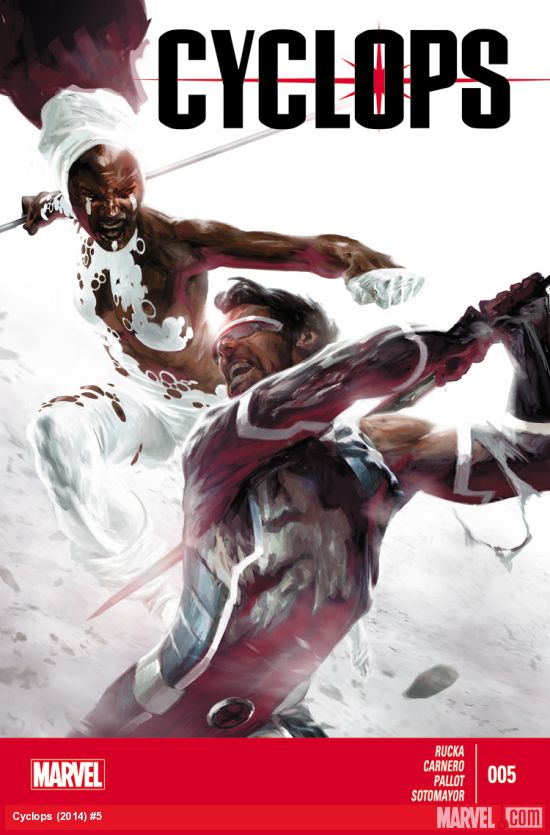 By: Greg Rucka (story), Carmen Carnero (pencils), Terry Pallot (inks), Chris Sotomayor (colors)

The Story: The Summers avoid another day of eating extraterrestrial chicken.
The Review: Being a straight action-adventure, Cyclops would be pretty difficult to review if it didn't have the developing relationship between Scott and Chris to flesh it out. I don't have much experience with Rucka's work, but from these last few issues, I'm starting to think he either doesn't fit well with the sci-fi genre or he's run out of ideas. In the Pete Tomasi mold, Rucka thrives on meaningful character interaction and drama, but seems awkward in action scenarios.
This issue offers a good look at the type of material we're likely to receive without the Summers bond to prop it up. There's really very little to say about Chris and Scott's escape plan, except that it works pretty much as expected: lure the bounty hunters, commandeer their ship, sigh with relief at avoiding another night on the planet of flesh-eating birds. Aside from Scott's submarine approach to the ship, there's not much cleverness (read: thought) put into the plan. Basically, Chris hides behind stuff and shoots stun-webs at each hunter. Rinse, repeat.
Continue reading →
Filed under: Marvel Comics, Reviews | Leave a comment »