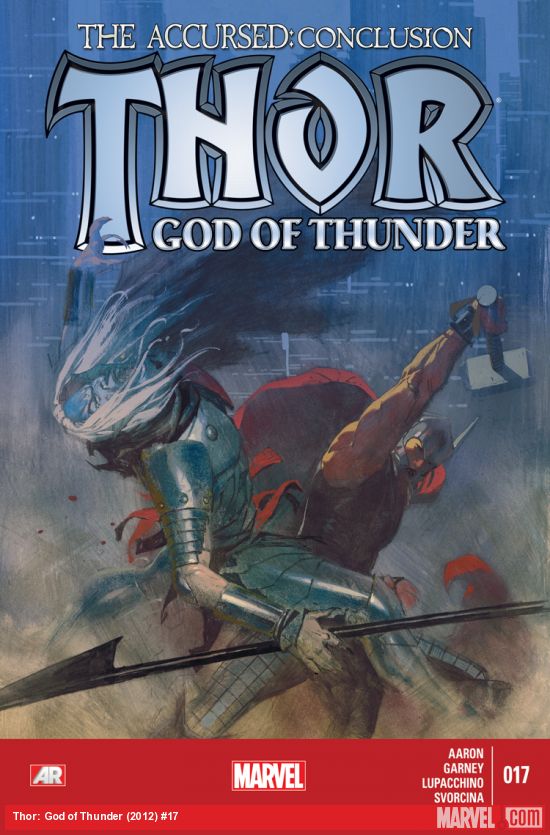 by Jason Aaron (Writer), Ron Garney, Emanuela Lupacchino (Artists), Ive Svorcina (Colorist)
The Story: Thor brings the pain to Malekith as the final fate of the league of realms and the dark elf criminal is revealed.
The Review: Not all titles are winners. There will always be an arc, a character or a certain addition to the story that readers will dislike or certainly not appreciate as much as the rest. Quality is not something consistent in most titles after all, nor is personal appreciation. We may love something, but there must be highs and lows in order for the better elements to be easier to perceive.
It is then, to my surprise, rather nice to see that while this arc might have begun in the most obvious of ways, with Malekith being presented just in the time for the movie, there was an actual direction to the story. While the general progression to this point had some good and bad parts, Jason Aaron does show that he can actually do something with some less-desirable elements in the book.
The first thing that Aaron manages to do is actually surprise readers, throwing twists after twists in this issue alone, providing for a great number of satisfactory scenes for those who had no idea of the actual direction the story could go for. With the story being rather straightforward before, the writer makes for a nice use of what had been set up earlier to provide for something rather inventive and expansive for the nine realms and its future in the Marvel universe.
Continue reading →
Filed under: Marvel Comics, Reviews | Tagged: Asgard, Dark Elves, Emanuela Lupacchino, Ive Svorcina, Jason Aaron, League of realms, Malekith, Marvel, Mjolnir, Nine Realms, Ron Garney, Thor Odinson, Thor: God of Thunder, Thor: God of Thunder #17, Thor: God of Thunder #17 review | Leave a comment »