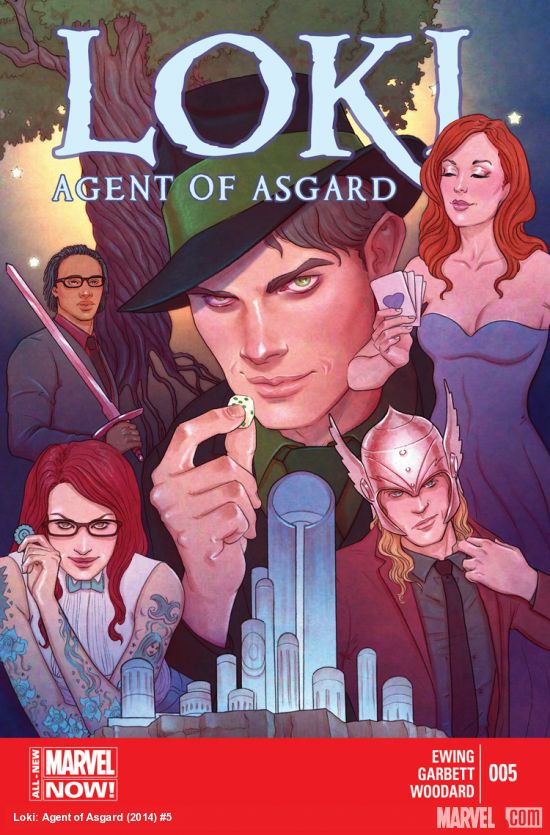 By: Al Ewing (story), Lee Garbett (art), Nolan Woodard (colors)

The Story: Loki finds himself and realizes he was better off lost.
The Review: For the purposes of discussion, let's all agree that right now, Loki has one big secret: the murder of his younger self, the "crime that will not be forgiven." True, he's confessed it to his Young Avenger pals, but it's a bit like dealing with your newfound atheism or homosexuality. You can proudly flaunt it to everyone else in the world, but as long as you keep it from your Bible-worshipping, you'll always feel a little bit trapped.
Loki will be feeling especially so after this issue, now that he's discovered the goblin-ish Loki scheming from the wings is not a manifestation of his past self, but his future. We've all known the real conflict in the series would come to this: the Loki trying to change versus the Loki who loves who he is. It bodes ill for the ultimate outcome of the battle that older Loki completely outmaneuvers younger Loki here. Able to freely traverse the past and see into the future, older Loki can shut down the younger's plan of attack before he even conceives of it. It's a foregone conclusion.
Continue reading →
Filed under: Marvel Comics, Reviews | Tagged: Al Ewing, Asgard, Lee Garbett, Loki, Loki: Agent of Asgard, Loki: Agent of Asgard #5, Loki: Agent of Asgard #5 review, Marvel, Marvel Comics, Nolan Woodard, Thor | 2 Comments »