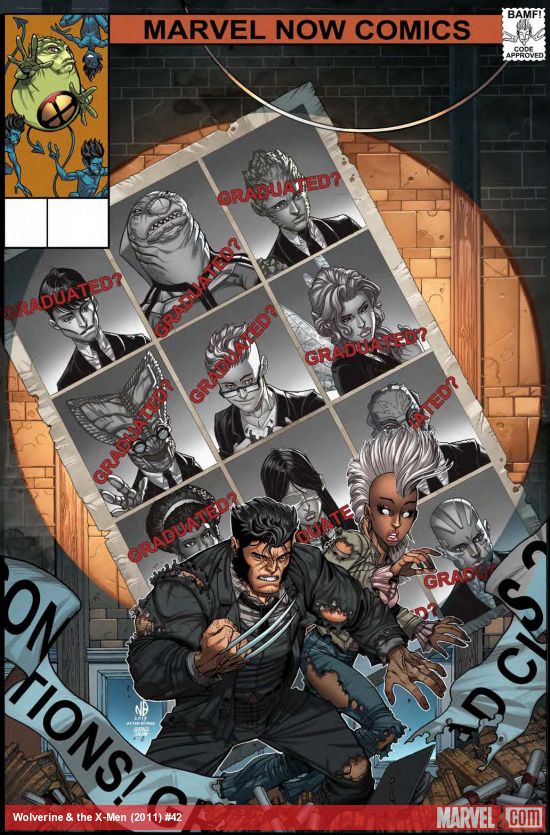 By: Jason Aaron (writer); Nick Bradshaw, Pepe Larraz, Ramon Perez, Shawn Crystal, Steve Sanders, Nuno Alves, Tim Townsend, & Chris Bachalo (artists); Matt Milla & Lee Loughridge (color artists)
The Story: It's graduation day for the Jean Grey School and Quentin Quire is in for a reckoning that's been building all semester.
The Review: It's been a long strange road for this series, but it's finally over.
For this capstone story Jason Aaron returns us to the Jean Grey School of the future from WatXM #29. As the mutants of Earth-616 prepare for graduation, a tired old Logan prepares to shut down the school on Earth-13729.
Aaron, in no uncertain terms, focuses this story around the three most important characters of his run: Logan, Idie Okonkwo, and Quentin Quire. When the Jean Grey School opened, each one of them entered with blood on their hands. The struggle for each has not been to atone for past deeds, but rather to redefine themselves so that they have a future going forward.
Idie definitely gets the short end of the stick in terms of billing, but she's actually one of the best characters in this issue. Both as her present self and as a confidant X-Man of the future, Idie shows drastic change from the beginning of the series. While I wish this transition had been more of a gradual process than a couple of off-screen leaps, the character that Idie has become is absolutely lovely. Her simple dialogue with Quire and Future Logan is probably some of the best work that Aaron has done with a female character over the whole of the run and makes her relationships with Logan and Quire feel real and substantial.
Meanwhile Quentin is dealing, or perhaps not dealing, with the fact that the Jean Grey School has changed him. Like a less flamboyant Stewie Griffin, he longs for the days when the mere thought of his dastardly plans made the hair stand up on Cyclops, Captain America, and Wolverine's necks.  What Aaron fails to bring in reality, he certainly provides in humor and heart.
Continue reading →
Filed under: Marvel Comics | Tagged: Anole, Captain America, Chris Bachalo, Final Issue, Hope Summers, Idie Okonkwo, Jason Aaron, Jean Grey School, Jean Grey School for Higher Learning, Kid Omega, Lee Loughridge, Logan, Matt Milla, Nick Bradshaw, Nuno Alves, Oya, Pepe Larraz, Phoenix (Quentin Quire), Pixie, Quentin Quire, Ramón Pérez, Shawn Crystal, Steve Sanders, Storm, Tim Townsend, Wolverine, Wolverine and the X-Men, Wolverine and the X-Men 42, Wolverine and the X-Men 42 Review, Wolverine and the X-Men Final Issue, Wolverine and the X-Men Finale, Wolverine and the X-Men#42 | Leave a comment »