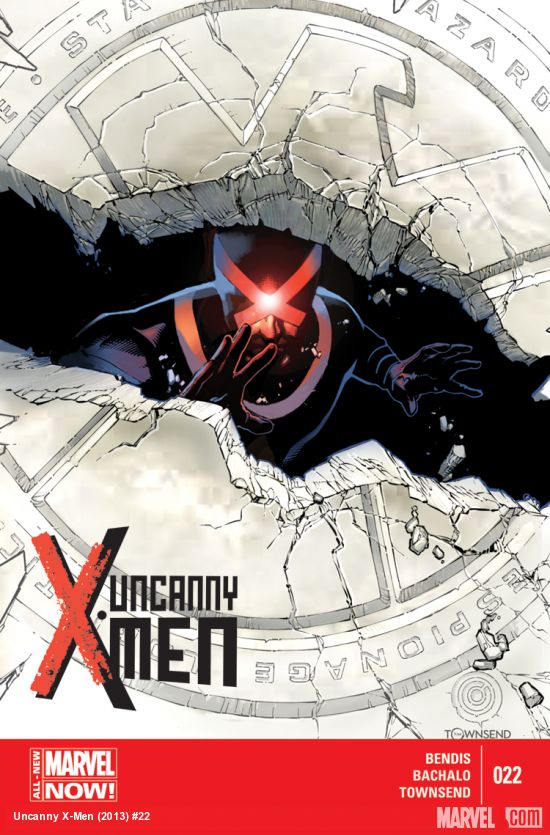 By: Brian Michael Bendis (writer); Chris Bachalo (pencils); Tim Townsend, Marc Deering, Mark Irwin, Jaime Mendoza, Victor Olazaba, & Al Vey (inks); Chris Bachalo & Jose Villarrubia (colors)
The battle with S.H.I.E.L.D. comes to an end this week as Cyclops, Beast, Maria Hill, and even Magneto put aside their differences to combat the rouge heli-carriers. Everything comes together this issue as the huge cast of Uncanny X-Men finds its way into the climactic battle.
Bendis does do an impressive job of laying out the stakes. Particularly if you respect Logan's dream for the Jean Grey School, the threat of annihilation is exceedingly real and present throughout the issue. Likewise, each victory for the X-Men, no matter how small, feels like reason to celebrate, thanks in no small part to the sheer amount of set up that's led to these crucial moments. The whole affair is appropriately cataclysmic, but Bendis actually gets a couple of nice jokes and fist pumping moments in amongst the gloom. Despite the building feeling that this is the end, a sensation that is all the sweeter for its rarity on this series, Bendis' plotting has some serious problems.
There's no denying that this is something of an abrupt ending, and one that deals more in expectations than in actual content. The best example is probably our villain. After last month ended with Beast dramatically announcing that he knew who was behind this, you'd expect that the answer would be fairly forthcoming, but I assure you, you've got a bit longer to wait. Despite repeating his certainty on page 5 and again on page 13, Hank isn't ready to reveal his findings to his fellow X-Men until halfway through page 14…off panel. The scene actually ends with Scott demanding "Who?! Who is it?, leading me to actually throw up my arms on a crowded subway and cry "oh come on." In actuality it doesn't take too much longer to learn the identity of the mastermind, but, like much of this series, it's absurdly and painfully drawn out.
Worst of all, when we finally do meet our villain, it comes out of nowhere, lacks any attempt at motivation, and is largely without value for the title going forward. I respect Bendis as a writer too much to believe it, but it almost feels like he planned this arc without knowing who the villain was himself! More likely, the rushed and confusing resolution is the result of the upcoming "Original Sin" tie-ins. There may be any number of reasons why things turned out this way, but it doesn't change how flimsy the ending comes across.
Luckily that apocalyptic tone I mentioned is beautifully realized by Chris Bachalo, who provides one of his strongest issues in recent memory. Bachalo starts with an unusually stark style that works wonderfully with the bright simplicity of the Canadian sky. The next scene introduces a little bit of grit into this style before it all breaks loose on the grounds of the Jean Grey School.
Continue reading →
Filed under: Marvel Comics | Tagged: Al Vey, Beast, Brian Michael Bendis, Chris Bachalo, Cyclops, Dazzler, helicarrier, Hijack, Jaime Mendoza, Jose Villarrubia, Magik, Magneto, Marc Deering, Maria Hill, Mark Irwin, S.H.I.E.L.D., Tim Townsend, Uncanny X-Men, Uncanny X-Men 22, Uncanny X-Men 22 Review, Victor Olazaba | 2 Comments »