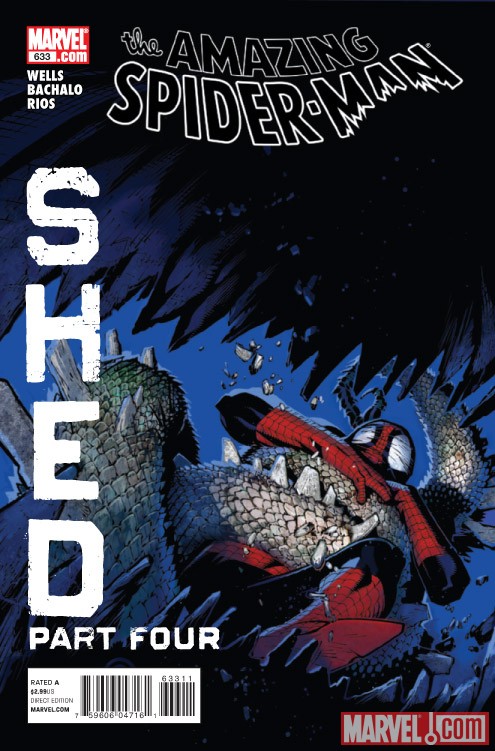 By: Zeb Wells (writer), Chris Bachalo & Emma Rios (art), Tim Townsend, Victor Olazaba, Mark Irwin & Bachalo (inks – over Bachalo's art only), Antonio Fabela (colors) & Joe Caramanga (letters)
The Story: The wrap up of The Lizard story line: The Lizard personality has completely driven Curt Connors from his mind and gained the ability to telepathically cause humans to release their inner lizard.
What's Good: I'll miss Chris Bachalo after this issue.  So much so, that I went and dug out a bunch of older issues of Uncanny X-Men that he drew for back-issue reading.  I've said it on the last few issues, but I love his art.  It is so nice to see someone just drawing without using all sorts of the bad elements of photo-reference (i.e. tracing).  I don't need a comic book to look like a photograph and this art just screams "comic books!" at you.  Plus, his artistic design work through this issue is top notch from the panel layouts to the way that Spidey's mask gets all wrinkly when he pulls it up to drink.  Nice work!
It has been true for every Spidey-rogue who we've seen in the Gauntlet, but I like how the Lizard comes out of this arc.  By the end of the story, it seems like the personalities of Lizard and Connors have basically merged and the reptile brain starts to feel some compassion and shame for having killed Billy (Connors' son).  It will be interesting to see how this creative choice plays out in the future because one of the defining characteristics of Lizard has always been the split personality, but I'll give the creators credit for doing something bold.  You can only do so much with the Lizard as he was before: Connors loses control, Lizard rampages, Spidey does something to help Connors regain control, The End.  Now I have no idea what will happen the next time Lizard shows up.
Continue reading →
Filed under: Marvel Comics | Tagged: Amazing Spider-Man, Amazing Spider-Man #633, Amazing Spider-Man #633 review, Antonio Fabela, Chris Bachalo, Comic Book Review, Dean Stell, Emma Rios, Joe Caramagna, Mark Irwin, Marvel Comics, review, Spider-Man, Tim Townsend, Victor Olazaba, Weekly Comic Book Review, weekly comic book reviews, Zeb Wells | Leave a comment »