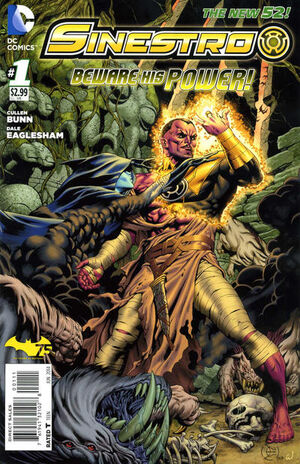 By: Cullen Bunn (story), Dale Eaglesham (art), Jason Wright (colors)
The Story: Just when you need a fear-mongering dictator, he decides to give it all up. Figures.
The Review: As Hal Jordan's primary arch-nemesis, Sinestro has always been a formidable villain, but in recent years, under Geoff Johns' revitalizing pen, he's now become one of the all-time greats of DCU antagonists. In some ways, he blends elements of two of his peers; he has rationality and arrogance to rival Lex Luthor, but like Joker, he has loftier aims than merely destroying his rival. But Sinestro is more than their amalgamation; he's nobler and more capable of genuine sympathy than either.
Weird as it is to say that Sinestro has a heart, it's the only way to explain how he can be driven to weariness, even something like depression. These are foreign emotions for most other villains; they require a degree of self-reflection that would take a villain too close to questioning his purpose, and God forbid we should have that. But for all the violence and callousness of his methods, Sinestro's purpose has never been outright evil. He can appreciate the costs of his actions, which is why here, we see him weighing his real, personal losses against his scant, vague achievements.
Continue reading →
Filed under: DC Comics, Reviews | Tagged: Cullen Bunn, Dale Eaglesham, DC, DC Comics, Jason Wright, Korugar, Lyssa Drak, Sinestro, Sinestro #1, Sinestro #1 review, Soranik Natu | Leave a comment »