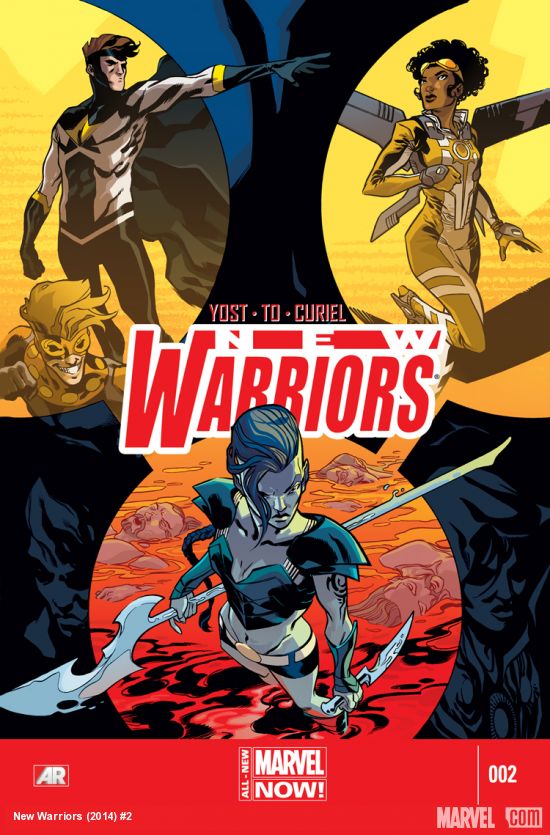 By: Christopher Yost (writer), Marcus To (artist), Daniel Curiel (color artist)
The Story: Spurned by the X-Men, the Evolutionaries throw millennia of planning out the window and decide to back a new, more human, horse.
The Review: With the team's final member making his appearance at the start of issue #2, New Guardians is clearly taking care with how the titular heroes come together. It's an impressively varied group, but this is the time to prove that the execution will live up to its concept. In that respect, New Warriors #2 is a bit unsteady.
Picking up where we left off last month, this issue opens with our disparate heroes facing off with teams of Evolutionaries. These adversaries are imposing, thanks in no small part to Marcus To's artwork, but despite the sheer number of conflicts, none of them justify the issue. It's not that the book lacks spectacle, but that none of these fights feel like the core struggle. I suspect that this will seem less of a problem in trade, but as it's probably going to be half a year before we see one, Chris Yost should really be providing a stronger arc in each issue.
The Evolutionaries also lose some of their menace this go around. At times this seems like a conscious choice, but in some cases it just diminishes the story. They whine too much and retreat too frequently, though hints of a greater plan keep them aloft.
With thirteen pages devoted to battles with the Evolutionaries or superhero infighting, Yost has to make his remaining seven count. Justice gets some much needed time to shine in the form of a visit to Avengers Tower. This scene could probably have sped up its exposition slightly, but is decidedly helpful to new readers and conveys Justice's concern without making him seem dull. Then again, maybe it's just the fact that he's standing next to ol' Slim Summers.
Continue reading →
Filed under: Marvel Comics | Tagged: An Inhuman named Mark, Aracely Penalba, Brutacus, Chris Yost, Christopher Yost, Cyclops, Evolutionaries, Faira Sar Namora, High Evolutionary, Hummingbird, Jarvis, Justice, Kaine, New Salem, New Warriors, New Warriors 2, New Warriors 2 Review, Nova, Salem's Seven, Sam Alexander, Scarlet Spider, Selah Burke, Speedball, Sun Girl, Water Snake | Leave a comment »