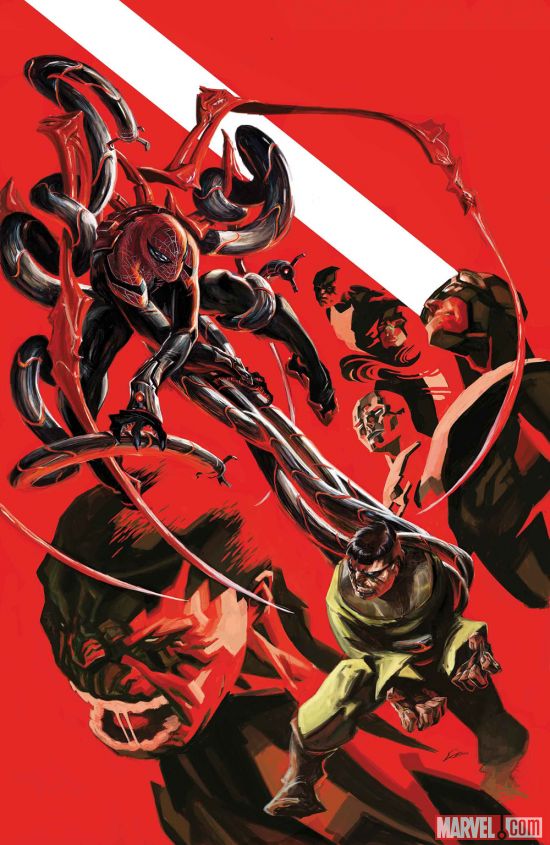 by Mike Costa (Writer), Michael Dialynas (Artist), Rachelle Rosenberg (Colorist)
The Story: With Spider-Ock and the rest of the team figuring out the mystery behind the time-travelling Doctor Octopus and Abomination, it's time to bring the fight to Dr. Jude.
The Review: With how capes comics are usually written nowadays, it's hard not to perceive them as long-form storytelling, divided in arcs in order to reach their endgame near the end of their run. It was thus in runs like Green Lantern by Geoff Johns, Batman by Grant Morrison, Avengers by Brian Michael Bendis and countless other ongoing past and present. With such forms of storytelling, it's rare to see simple stories being told and completed with a small number of issues, with the simple goal of bringing entertainment without caring too much about repercussions or continuity.
With the Arms of the Octopus, Mike Costa achieves this simple yet fun method of plot writing. With some twists, action and some clever characterization, Costa made this story rather enjoyable in the previous issues, putting Spider-Ock, the past X-Men and the Hulk in front as they collaborated to solve the mystery of the time-travelling Doctor Octopus. However, does Costa maintains the fun and give the readers a satisfactory conclusion in his very last chapter?
This issue does succeed with both terms, albeit in different ways. The more traditional approach to super hero stories work quite well as the heroes defeat the villain in a way that is on par with previous storytelling methods. They defeat the villain of the piece, Dr. Jude not with fisticuffs but with some clever thinking and cooperation on everyone's part. It's part throwback to tales from the 60′s and the 70′s with a modern twist that makes this quite enjoyable for those looking for something competent storytelling. It might not be the most ambitious, but it does its job fairly well.
(more…)
Filed under: Marvel Comics, Reviews | Tagged: Arms of the Octopus, Beast, Cyclops, Hulk, Iceman, Jean Grey, Marvel, Michael Dialynas, Mike Costa, Otto Octavius, Past X-Men, Rachelle Rosenberg, Spider-Ock, Superior Spider-Man Team-Up Special, Superior Spider-Man Team-Up Special #1, Superior Spider-Man Team-Up Special #1 review | 1 Comment »