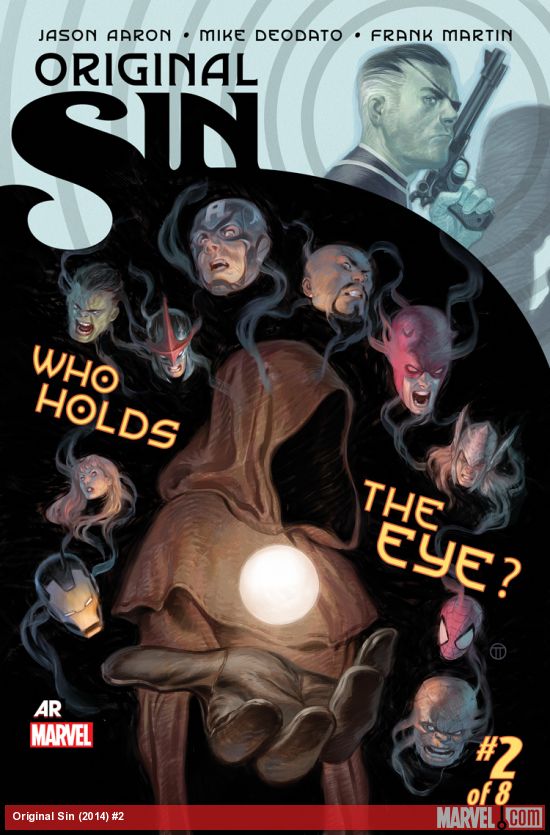 Jason Aaron (Writer), Mike Deodato (Artist), Frank Martin (Color Artist).
The Story: Who holds the eye?
The Review: The answer to the above question has more than one answer, as this issue we learn the identities of a trio of characters who hold one of the Watcher's eyes. The character reveals are seriously out of left field, certainly not the usual suspects  which is a wonderful change of pace from the usual annual event tradition of recognizable heroes, villains and narrowed focus. Much as I delighted at the oddball team-ups that occurred in the first issue, the villain partnership that is presented in #2 feels incredibly fresh and exciting. The mystery angle of this series is quickly displaying how effective it is at throwing curve balls at, and surprising readers. Lets hope that the remaining six issues continue this trend.
The story's scope continues to grow with this issue as more heroes become involved, Avengers, X-men, street-level heroes and newer faces like Nova join the manhunt for Uatu's murderer. Not all of the characters play key roles in the issue but their inclusion does give the series the star power it needs for it's summer blockbuster status. Where the issue does really shine is when it focuses on Nick Fury, clearly the star of the series, taking on a not-so-Mindless One in his flying car above New York. Aaron writes a fantastic Nick Fury, utilizing an array of outlandish spy gadgets to interrogate and later dispatch of his quarry with Steranko-esque style.
Continue reading →
Filed under: Marvel Comics | Tagged: Ant Man, Black Panther, Captain America, Dr. Strange, Emma Frost, Exterminatrix, Iron Man, Marvel, Mindless Ones, Nick Fury, Original Sin, Spider-Man, The Hulk, The Orb, The Punisher, The Thing, Thor, Uatu, Wolverine | Leave a comment »