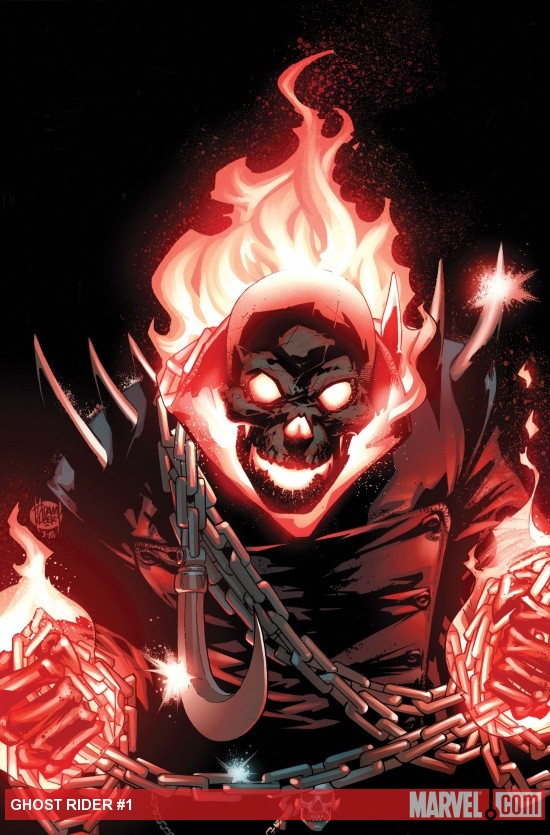 by Rob Williams (writer), Matthew Clark (pencils), Sean Parsons (inks), Robert Schwagner (colors), and Clayton Cowles (letters)
The Story: A new Ghost Rider rides into Dayton, Ohio to confront Sin.
What's Good:  There are definitely some good ideas, here.   While I'm sure Blaze and Ketch enthusiasts won't be wild about it, I love the fact that Williams and Marvel and trying to do something completely different in giving us a female Ghost Rider.  It's a dramatic move and, honestly, who doesn't love kick-ass female characters?  More than that, though, is the fact that from the little we know of her, this character, "Alejandra," seems to be a kind of warrior, trained by some underground cult/sect.  It's a total 180 from the rock star or country badass type we've gotten before, and there's an unexpected proficiency and confidence on Alejandra's part.  Frankly, this sudden shift is enough to get me to want to check out the next issue.  There's tons of potential and I'd really like to get to know Alejandra.
Then there's the cliffhanger, which is a really, really great one and a fantastic development.  Suffice it to say, depowered or not, Blaze will have a big part in this comic and the character who shows up on the final page is one that always brings the fun to any comic, particularly one like this.
Continue reading →
Filed under: Marvel Comics, Reviews | Tagged: Adam, Alex Evans, Blitzkrieg USA, Comic Book Reviews, comic reviews, Fear Itself, Ghost Rider, Ghost Rider #1 review, Ghost Rider 1, Johnny Blaze, Marvel Comics, Marvel Universe, Matthew Clark, Mephisto, Rob Williams, Sin, spirit of vengeance, the Seeker, the Worthy, Weekly Comic Book Review | 3 Comments »