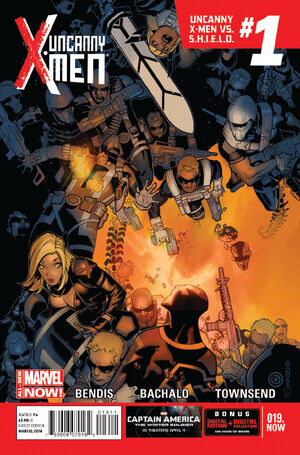 By:  Brian Michael Bendis (writer); Chris Bachalo (pencils); Tim Townsend, Al Vey, Jaime Mendoza, Mark Irwin, and Victor Olozaba (inks); Chris Bachalo and Jose Villarrubia (colors)
The Story: We heard you like Sentinels so we put Sentinels in your Sentinels…
The Review: Back in August Uncanny X-Men received a slight boost when it featured a story about Cyclops facing off against a new breed of Sentinel. In the seven months that have passed, Uncanny has been growing and changing, largely for the better. Now that it's time to pick up that thread, will it have the same oomph that it once did?
The answer is an ever charming sort-of. Bendis makes no attempt to hide that the past half a year of stories were a distraction. While the events of issue seventeen are mentioned, it's clear that this series has been off track since the last Sentinel arc. The problem is that, for the most part, the filler was far better than anything that preceded it. So while it is intriguing to return to the mystery Sentinels again, there's a sense of a backslide that I can't deny is worrisome. It's also strange since the event that took us off track, "Battle of the Atom", ended with a dramatic reveal that S.H.I.E.L.D. has Sentinels, and different Sentinels at that.
Regardless, we're diving back into Bendis' main story. Summoned by a surge of mutant activity, the New Xavier X-Men find themselves lured into a trap. Bendis knows his collaborators and the creative team deliver a slick futuristic take on the X-Men. These aren't the simple androids of the Mark I, and panels like a swarm of alien-looking mutant hunters spawning from the maw of a gigantic Sentinel are powerful and eerie. Likewise, a scene inside Cerebro is the stuff of science fiction, the kind that convinced us to buy sunglasses in middle school.
These new model Sentinels present a solid challenge for the team and Bendis' answer serves to resolve the problem while significantly deepening the mysteries surrounding it. It's a situation that is all the more fascinating for the removal of Hijack from the team, but the answer is pretty simple. Indeed, much of the issue seems designed to highlight Chris Bachalo's contributions.
Continue reading →
Filed under: Marvel Comics | Tagged: Al Vey, Brian Michael Bendis, Chris Bachalo, Cyclops, Goldballs, Hijack, Jaime Mendoza, Jose Villarrubia, Magik, Maria Hill, Mark Irwin, Mystique, S.H.I.E.L.D., Sentinels, Tempus, Tim Townsend, Uncanny X-Men, Uncanny X-Men 19, Uncanny X-Men 19 Review, Victor Olazaba | Leave a comment »