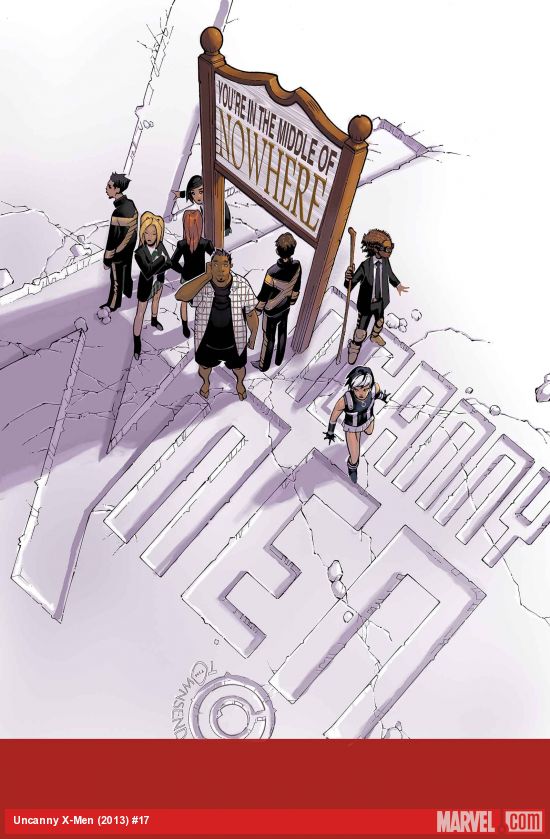 By: Brian Michael Bendis (writer), Chris Bachalo (pencils & colors), Tim Townsend w/ Al Vey & Jaime Mendoza (inks)
The Story: The newest X-Men battle chickasaurs, carrot people, Shelob, and S.H.I.E.L.D. while simultaneously acting in the greatest Verizon commercial never made.
The Review: In the past few months Uncanny X-Men has become a home for some of the best one-in-done stories in modern comics. After a look at the women of the New Xavier School and a spotlight on Magneto, Brian Michael Bendis gives us a, debatably, more traditional team story.
Another interesting trait of this title is Scott Summers' emerging habit of putting his students in life threatening danger for training. While the issue hints that Magik is keeping an eye on them, it's certainly in keeping with his mutant revolutionary status and differentiates his teaching style from Wolverine's. Indeed, rather than retread classic X-Men ground and send his squad to the Savage Land, Bendis explores a newer locale. In the end the actual difference is pretty limited, but it's an apt metaphor for what's going on here.
This is the first issue of Uncanny X-Men where the teaching staff is largely absent. For the first, and the long overdue, time the success or failure of this issue rests entirely on the New Xavier's students and, fun as a book about Scott, Emma, and Ilyanna can be, these kids are entirely up to the task. Likewise, while we all love a good Savage Land story now and again, Tabula Rasa presents a feeling of mystery and possibility.
Continue reading →
Filed under: Marvel Comics | Tagged: Agent Coulson, Al Vey, Benjamin Deeds, Brian Michael Bendis, Chris Bachalo, Christopher Muse, Cyclops, David Bond, Eva Bell, Fabio Medina, Goldballs, Hawkeye, Hijack, Jaime Mendoza, Magik, Nick Fury Jr., Phil Coulson, Stepford Cuckoos, Tempus, Tim Townsend, Triage, Uncanny X-Men, Uncanny X-Men 17, Uncanny X-Men 17 Review | Leave a comment »