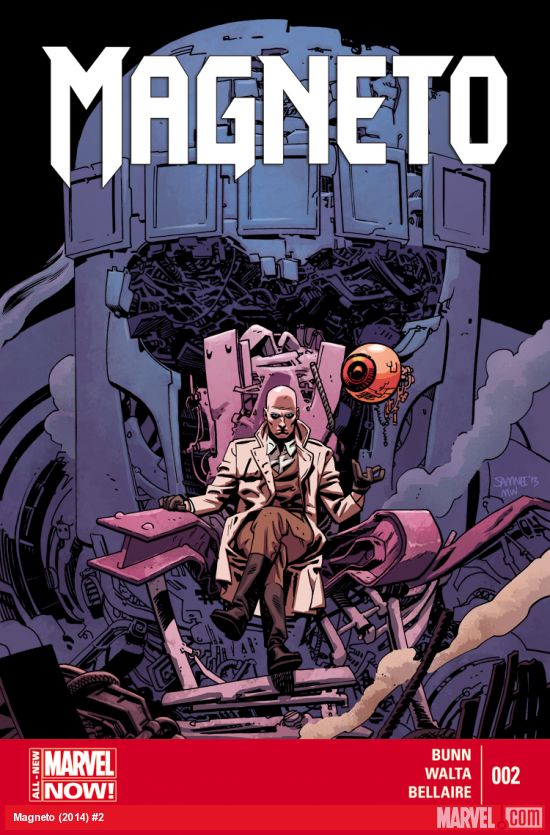 By: Cullen Bunn (writer), Gabriel Hernandez Walta (artist), Jordie Bellaire (color artist)
The Story: To fight monsters we create monsters.
The Review: In Magneto #2, Cullen Bunn and Gabriel Hernandez Walta continue their unique look at Marvel's most fascinating villain. So far, Magneto is really not a superhero comic. Costumes are rarities, invoked for psychological effect, and powers are weaker than motives. It's more of a detective tale than anything else, with Erik's forceful interrogations, antagonism with the authorities, and strong inner monologue almost recalling a hero in the mold of Sam Spade. But building that tone takes time.
It's hard to deny that this series is moving at an extremely leisurely pace. Each issue seems to take us a single step further into the mystery. It's an effective pattern but many comics would contain a couple of Magneto endings. Still, when the narration is this entrancing and the art this beautiful, it's not hard to overlook the pace.
Indeed, there's plenty of reason to take time this month, as Magneto thinks back to a moment from his childhood as a resident of the Warsaw Ghetto. The balance between retreading old ground and respecting the historical importance of Magneto's origin is a difficult one but, thankfully, Bunn seems to have a good grasp on his subject matter. Survival is a victory and loyalty is different from how we see it today. The issue also grasps the almost cartoonish cruelty that the Nazis frequently dipped into and avoids exaggerating their evil. It's the right choice, especially when the truth is enough.
Continue reading →
Filed under: Marvel Comics | Tagged: Cullen Bunn, Erik Lehnsherr, Gabriel Hernandez Walta, Jordie Bellaire, Magneto, Magneto 2, Magneto 2 Review, S.H.I.E.L.D. | Leave a comment »