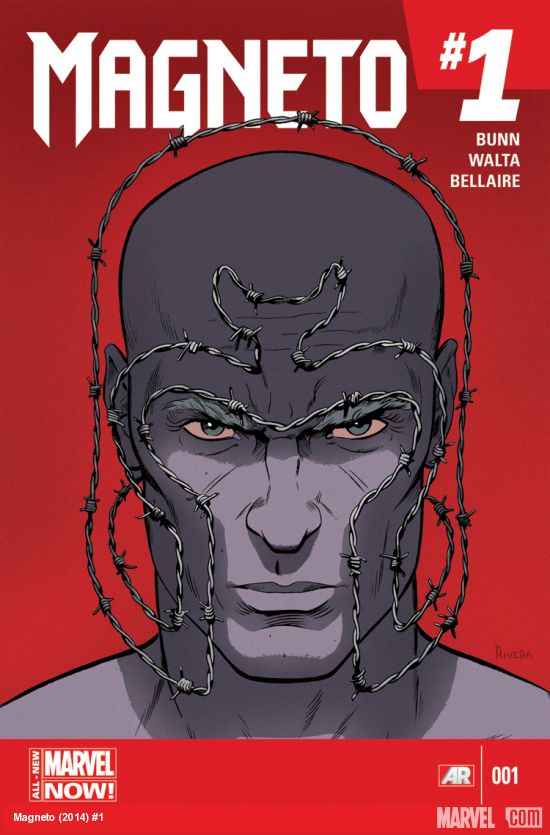 By: Cullen Bunn (writer), Gabriel Hernandez Walta (artist), Jordie Bellaire (color artist)
Magneto. Erik. Max. Champion. Terrorist. Survivor. Revolutionary. But never victim…
Magneto has been many things to many people, but, for better or worse, something's changed in him. Building a stable future didn't work, the mutant revolution wasn't enough, and so this series opens with an inherent mystery: who is Magneto now?
Cullen Bunn does a fine job of demonstrating Erik's complexity. An onlooker's report that he kills "on autopilot" contrasts, but never contradicts, the methodical focus with which Magneto goes about his task. Bunn's first issue lacks a single brilliant anything, not a scene, not a line, but while there isn't a crystallized moment, it's hard to deny that there's a power in his words.
This Magneto gives off the gravity that his character deserves. He could be raining metal from the sky or drinking his coffee and you would be holding your breath just the same. But while Bunn gets into a great rhythm before long, he does take a minute to get the hang of Erik's voice. Unnecessary biblical references and Magneto's judgments of himself belabor the early pages. Thankfully, Bunn does a much better job of analyzing the master of magnetism through the lens of other characters. Magnus' comments reflect the situation only as much as they reveal the inner workings of his mind.
One particularly welcome characteristic of our protagonist is his willingness to change his mind. At least to me, a Magneto beyond reasoning is a boring one. Not that he should be sticking up for humans, but so much beautiful subtlety is lost when he paints exclusively in black and white. The revelations of this issue's final act demonstrate Magneto's ability to reevaluate the situation and even to exhibit empathy, that most hated and yet most necessary element of the character.
The plot for this issue is pretty simplistic. It seems more interested in setting up the status quo and the tone of the series than demonstrating the premise at its most exciting. The series has a hook by the end of this issue, and a pretty solid one at that, but it's a slow build.
Gabriel Hernandez Walta's style is instantly distinct. He presents something of a simplified realism in his drawings, perhaps appropriate to the character. It's very much in Marvel's recent trend of more art-centric comics, but it's decidedly not David Aja or Javier Pulido. Deep blacks and beautifully washed out colors, courtesy of Jordie Bellaire, flow into Walta's thin, graceful lines and between the gentle shading that makes up so much of the book.
Continue reading →
Filed under: Marvel Comics | Tagged: Cullen Bunn, Erik Lehnsherr, Gabriel Hernandez Walta, Jordie Bellaire, Magneto, Magneto #1, Magneto #1 review | 2 Comments »