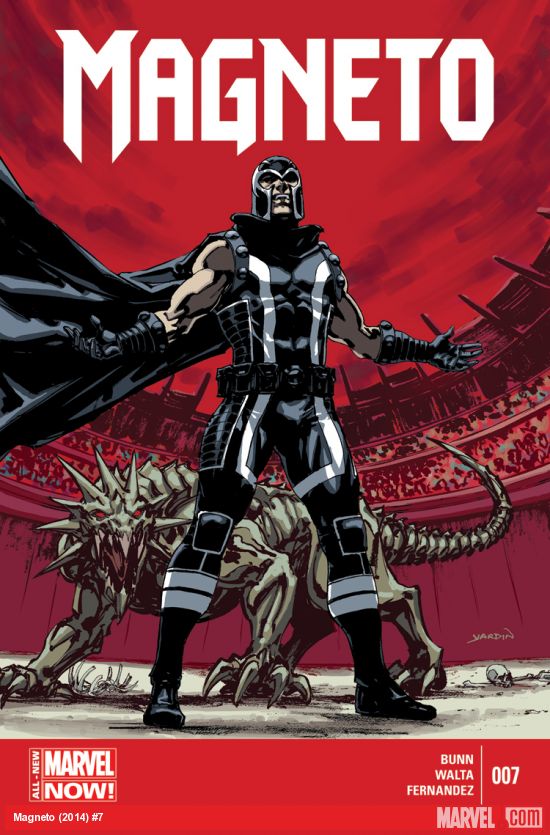 By: Cullen Bunn (writer), Gabriel Hernandez Walta & Javier Fernandez (artists), Jordie Bellaire & Dan Brown (color artists)
The Story: "Are you not entertained!?"
The Review: With the Marauders adequately dealt with, Magneto turns his attention to a series of mutant disappearances in Hong Kong.
As ever, Cullen Bunn's narration is razor-sharp and highly engaging. While the character is too big for it to be a definitive version, Bunn owns Magneto's voice. Magneto's appeal exists as much in the imagined diction of Bunn's intense monologues as in the more tangible elements of the series.
As for the plot, this is probably the best since issue #3. The scenario is simple enough in its construction to allow full attention to be paid to the underlying complexities and the action is plenty gripping on a visceral level.
One of the most refreshing and frustrating elements of an issue like this is Bunn's comfort in showing us a sliver of man's depravity. There's no need for a complete treatise to be forced into twenty-two pages, but that doesn't stop the story from showing us simple, true to life monsters. Bunn captures that quality of malice that leaves you asking why, but, of course, you already know the answer.
The art is split between the book's two major art teams. It's lovely to have Gabriel Hernandez Walta back again, if only for part of the book, not to mention Jordie Bellaire. Walta's art is slightly less polished than usual, but it's a minor quibble compared to the air of seedy power that he provides the issue. The care that Walta puts into Erik's stubble, his musculature focuses the eye on the minute and the dirty, daring you to engage with the grime and corruption of the setting without crossing into the adolescent revelry that dooms many comics' attempts to be 'realistic'.
This issue also demonstrates Walta's skill with body language, particularly in the shoulders. The fear in the promoter's nervous precision or the 'sick of this' exhaustion in Magneto's tensed stance or even just the way that Erik crouches over his coffee all add to this comic's impressive ability to communicate information unconsciously.
Continue reading →
Filed under: Marvel Comics, Reviews | Tagged: Briar Raleigh, Cullen Bunn, Dan Brown, Gabriel Hernandez Walta, Javi Fernandez, Jordie Bellaire, Magneto, Magneto 7, Magneto 7 Review, Predator X | Leave a comment »