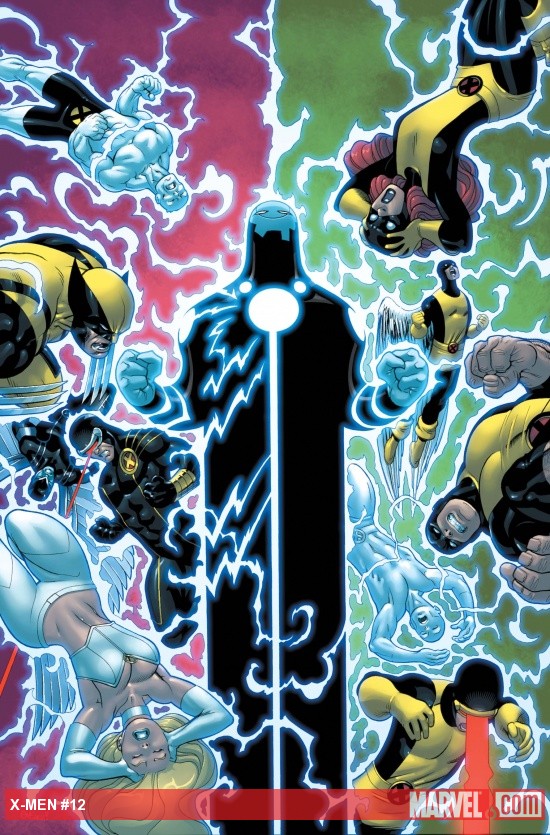 By: Christopher Yost (writer), Paco Medina, Dalibor Talajic (pencillers), Juan Vlasco, Dalibor Talajic (inkers), Marte Gracia (colors)
The Story: First to Last, Part 2: In three different times (2.7 million years ago, in the early issues of the original X-Men, and now) we learn about the evolutionaries. They are looking for the leader of mutantkind to speak for all mutants, to prevent homo superior from going extinct.
What's Good: I thought that the art in the now (and 2.7 mya) by Medina and Vlasco was pretty strong. Although some of the early primates seemed a bit plastic, the wolves were not, and the Eternals were visually impressive. The modern scenes were even stronger. The evolutionaries facing Cyclops in the debris of Utopia seemed to live in the kind of chaotic, gritty atmosphere that makes the best use of the styles of Medina and Vlasco. The heroes are dynamic, the villains menacing and the smoky background looks to be crumbling around the story. The quick switches from character reaction to character reaction were effective and the choice of camera angles and zoom-ins were powerful. Check out the close-up on the evolutionary leader's eyes right before the splash page attack on Cyclops.
Writing-wise, I'm loving this arc. Yost is surfacing an ancient mystery with huge stakes (the survival of the two extant species of homo). The slow reveal, the bubbling anger and impatience on the side of the heroes, plus Cyclops' mysterious orders drive the tension right up. And the toggling between the past and present is very effective in unfolding the coolness of this story and revealing the true menace of the evolutionaries. Also, seeing Magneto in any setting is a treat, but seeing him in his full villainous glory brings a nostalgic pang to my heart.
(more…)
Filed under: Marvel Comics | Tagged: Christopher Yost, Comic Book Reviews, comic books, comic reviews, Cyclops, Dalibor Talijic, DS Arsenault, Emma Frost, Evolutionaries, Iceman, Jean Grey, Juan Vlasco, Magneto, Marte Gracia, Marvel, Marvel Comics, Marvel Girl, Paco Medina, Professor X, review, Reviews, Scott Summers, the Eternals, WCBR, Weekly Comic Book Review, weeklycomicbookreview.com, Wolverine, X-Men, X-Men #12, X-Men #12 review | Leave a Comment »