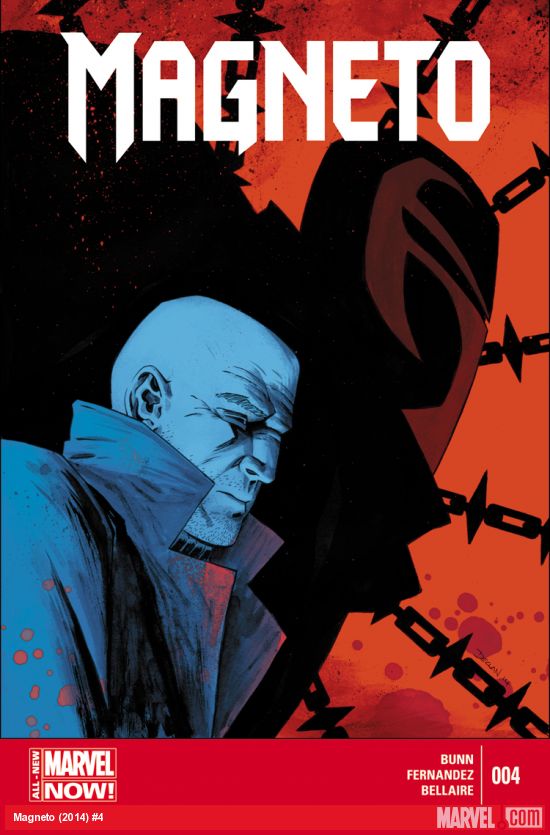 By: Cullen Bunn (writer), Javier Fernandez (artist), Jordie Bellaire (color artist)
The Story: Magneto celebrates Memorial Day his own way.
The Review: With a sterling opening arc put to bed, Cullen Bunn's Magneto now moves into different territory for its fourth issue, providing a one-off examination of where Erik goes, physically and mentally, between battles.
At this point a number of Bunn's tricks are beginning to make themselves known. Especially only two weeks after the last issue of this series, it's hard not to notice how many scenes there are of Magneto walking through dark corridors between the two. Likewise, it's clear that one of the series' trademarks is its methodical, almost procedural, way of documenting Magneto's mission, methods, and kills. It does hurt the effect to see these devices called upon again so quickly, but they were effective for a reason.
While the Omega-Sentinels plotline is over, for now, this issue seems to say to its readers that the book will carry on with the same tone and flavor. One thing that Bunn excels at is imbuing his violence with purpose. Every move Magneto makes is calculatedly vicious in a way that very few stories even attempt. I still don't think Magneto kills "on autopilot", as an onlooker from issue 1 put it; indeed, it seems to me that it is actually of the utmost importance to him to be present and conscious of each strike and each murder. For Magneto, his power is a fusion of physical ability and focused will.
The dichotomy of these elements is the strongest part of the issue, as a retreat to an old hideaway reminds Magnus of the reasons he fights. The answer is fitting for a holocaust survivor and has a certain charm to it, though it might not be subtle enough for some readers.
Continue reading →
Filed under: Marvel Comics | Tagged: Cullen Bunn, Erik Lehnsherr, Javi Fernandez, Jordie Bellaire, Magneto, Magneto 4, Magneto 4 Review, Purifiers | Leave a comment »