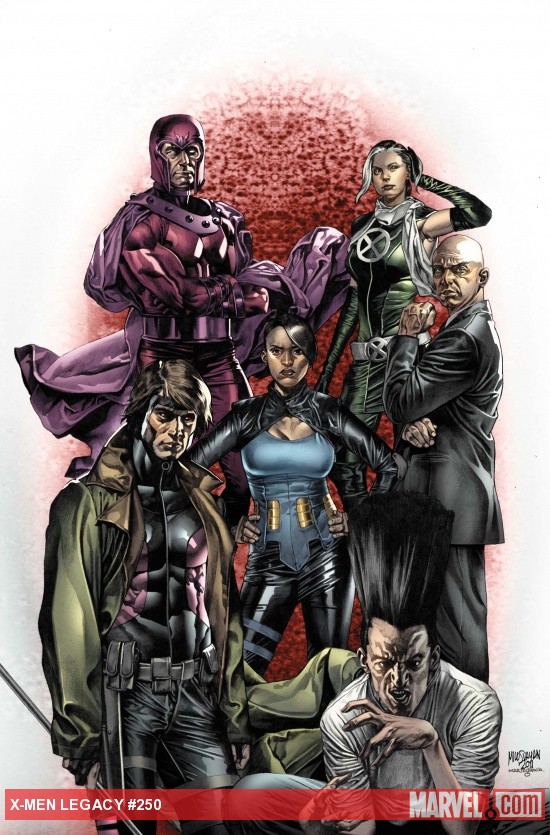 By: Mike Carey (writer), Khoi Pham, Tom Palmer & Marte Gracia (pencils/inks/colors – Legion Story), Steve Kurth, Jay Leisten & Brian Reber (pencils/inks/colors – Rachel Summers story), Cory Petit (letters), Sebastian Girner (assistant editor) & Daniel Ketchum (editor)
The Story: A two-parter for this special anniversary issue.  In the first part, we visit some of Legion's out of control personalities.  In the second, we learn a little more about Revenant/Rachel Summers and where she and the Starjammers are.
What's Good: I really like the general style of story telling that Mike Carey is going for here.  Too often modern comics have these discrete 6-issue arcs that collect nicely into trade paperbacks with each 6-issue arc having very little to do with the last one.  Here, Carey is picking up some ideas that spun out of his Age of X storyline and actually playing with them.  You wouldn't be totally lost if you were a part-time X-Men reader and picked this issue up cold without reading Age of X, but you might be a little confused.  And that's how it should be dammit!  Nothing makes me feel like a bigger chump than realizing the money I plunked down for the BIG STORY in 2010 isn't having any impact on the stories I'm reading today.
The Legion story is well told and features a diverse grouping of X-Men: Legion, Professor X, Magneto, Rogue, Gambit and Frenzy.  Even though I do roll my eyes a little bit every time I see Legion or Gambit on the page, I think we should give credit to Carey and the X-editors for creating a team that doesn't include Wolverine, Cyclops or Emma.  Just having this different team setting off on a different mission to contain some break-away Legion personalities is fun because I'm not wondering how these characters can be in multiple places at one time.
But, the star of the issue is the Starjammers storyline.  If you've been reading X-Men for longer than a couple years, you know that Ed Brubaker took the  team off into space for the Rise and Fall of the Shi'ar Empire story.  That story lasted one year and when it was done, some of my favorite characters (Rachel Summers, Havok and Polaris) were left in space.  Well….they've been gone for ~4 years now with nary a peep so it is nice to see that story line being picked back up.  Again….this type of story telling makes fans feel like we weren't chumps for buying those issues in 2007.  And I'm ready for another good X-Men-In-Space romp.
Continue reading →
Filed under: Marvel Comics | Tagged: Brian Reber, Cory Petit, Daniel Ketchum, Gambit, Jay Leisten, Khoi Pham, Magneto, Marte Garcia, Mike Carey, Professor X, Rogue, Sebastian Girner, Steve Kurth, Tom Palmer, X-Men Legacy #250, X-Men Legacy #250 review | 3 Comments »