FIRST IMPRESSIONS 8/4/10

Artifacts #1

By Ron Marz, Michael Broussard, & Marc Silvestri
Price: $3.99
Brief Thoughts: Marz's and Broussard's storytelling here is strong, and both of their talents are well-served by an engaging plot concerning supernatural forces and dire prophecies.  Right now the plot mainly concerns the Witchblade-bearer Sara Pezzinni and mysterious escapee from Hell, Tom Judge, but these two characters are intriguing enough that I'm willing to wait around and see who else shows up for the show.  There are a few extra pages of supplemental material at the back of the issue that might fill in some blanks for any new readers jumping on with this first issue (like me).  Worth a look, especially if you're a fan of the genre.

Verdict: Give it a shot.
Baltimore – The Plague Ships #1

By Mike Mignola, Christopher Golden & Ben Stenbeck
Price: $3.50
Brief Thoughts: You really can't go wrong mixing vampires, zeppelins, witchcraft and the early 1900's. Throw in the Plague and Lord Baltimore, vampire hunter, and  you've got a bloody good time, oh yes.  Mignola's & Golden's script is sparse and right to the point and because of these traits, it shines.  Sometimes you just don't need much backstory to sell a plot to readers, and they know that this can work if they simply do it right.  Stenbeck is the real one to watch here, though, as the entire issue is such a joy to read because of his gorgeous artwork.  This looks to be another fun little dark ditty from Dark Horse.
Verdict: Give it a shot.
Captain America – Forever Allies #1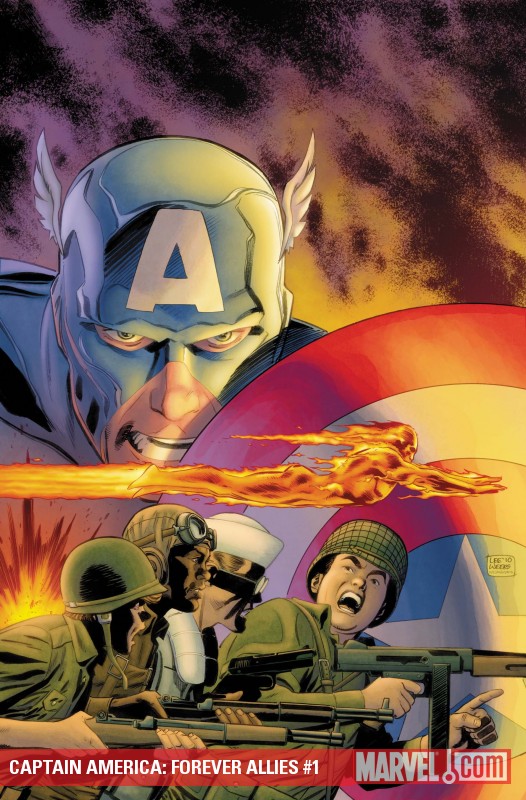 By Roger Stern, Nick Dragotta & Marco Santucci
Price: $3.99
Brief Thoughts: I wouldn't call this miniseries bad by any stretch of the imagination, but the words "slow" and "unnecessary" do spring to mind.  Stern's script lacks urgency, and while the Golden Age scenes pencilled by Dragotta are nice to look at, the present day scenes by Santucci are stiff and plain.  There's a 10 page reprint of a retelling of Cap's & Bucky's origin by Stan Lee and Jack Kirby, which might be worth a look if you've never read it before.  Otherwise, stick to the monthly Cap series.
Verdict: Save your dough.
Continue reading →
Filed under: DC Comics, Image Comics, Marvel Comics, Other, Picks of the Week, Top Cow | Tagged: Artifacts #1, Baltimore: The Plague Ships #1, Captain America: Forever Allies #1, Cars: Adventures of Tow Mater #1, Daredevil - Black and White #1, Magnus Robot Fighter #1, Marvel Universe vs. The Punisher #1, Murderland #1, Nancy in Hell #1, Shadowland: Bullseye #1, Superman: The Last Family of Krypton #1, The Rage of Thor #1, Thor: The Rage of Thor #1, Torchwood #1, Whispers in the Walls #1 | Leave a comment »