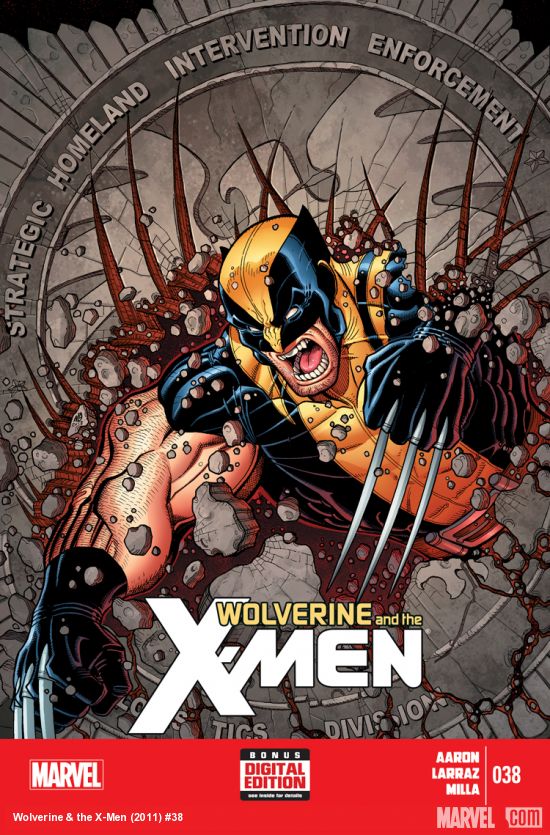 By: Jason Aaron (writer), Pepe Larraz (artist), Matt Milla (color artist)
The Story: Maria Hill proves she has no appreciation for anything awesome in comics, forcing Wolverine to turn to Carlos Danger.
The Review: I'll say this for Jason Aaron, he's very good at writing beginnings. And so, in the vein of Wolverine and the X-Men #1, this issue sets the stage for what seems to be the next and final season of this title.
This book is only twenty-pages long, but it feels massive. While some of that may be the psychological effect of having a preview attached to the back, it's hard to deny that Aaron gets mileage out of this issue. Wolverine and his staff now know that S.H.I.E.L.D. has Sentinels and they are not pleased, but Maria Hill isn't exactly pleased with their part in Battle of the Atom, either. While critics of Wolverine and the X-Men might point to the jokey tone of the series, not incorrectly, Aaron does a well above average job of channeling his trademark humor into the drama of the scene and, in fact, the entire issue.
Amid this backdrop, Broo takes a pair of new students on a tour of the Jean Grey School. It's hardly the first time that Aaron has used this device, but it's easily one of the best. The school definitely feels different since the last time we saw it. It feels like the start of a new semester. Honestly, it doesn't really make a lot of sense when that would have happened, but it's just what the book has needed.
(more…)
Filed under: Marvel Comics | Tagged: Broo, Dazzler, Eye Boy, Iceman, Idie Okonkwo, Jason Aaron, Kid Gladiator, Maria Hill, Matt Milla, Pepe Larraz, Quentin Quire, Sentinels, Wolverine, Wolverine & the X-Men | Leave a Comment »