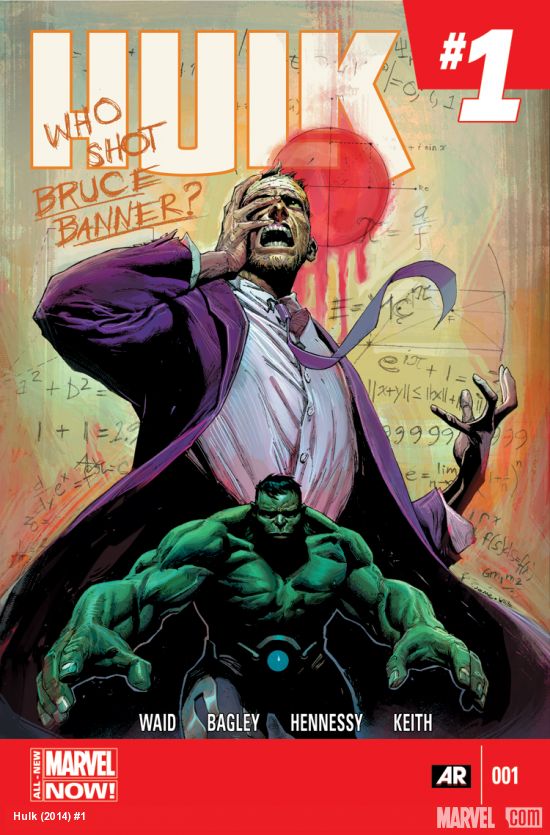 By: Mark Waid (Writer), Mark Bagley (Pencils), Andrew Hennessy (Inks), Jason Keith (Colors), VC's Cory Petit (Letters), Jerome Opena w/ Dean White (Cover Artists)
The Story: Banner hurt. Shadowy People in Shadows make Doctor Guy poke Banner's brain. Hulk smash! Now Banner dumb. Dumb Banner.
The Review: It's always interesting when a Hulk-story doesn't necessarily feature the Hulk (and/or Bruce Banner, if we need to differentiate.) The story instead must rely on its supporting cast, its antagonists, or other elements of its world-building. And really, when that happens it makes these kinds of Hulk-stories essentially monster-stories– in any given monster-story, the monster itself does not have to be the protagonist; only its implicit presence and horror need be felt to impact the characters, plot, tone, etc.
Mark Waid gives us this kind of monster-type story, with Banner/the Hulk essentially in the background for the majority of the issue. In the beginning, the narration boxes even suggest some things about "story" in the abstract, while setting up a surgeon who is only tangentially related to Banner's past but is now caught up in the existential horror having the Hulk's life in his hands. The boxes shift very dramatically to remind us that "this isn't his story," at which point the comic brings the Hulk more actively into the story. Even still, Banner/the Hulk is merely the object of the story, not its subject– as it's Agents Hill and Coulson who arrive to track Banner down for the last-page cliffhanger. However, perhaps this page suggests that we will return very specifically to Banner-driven drama in subsequent issues. It's equally likely that he will remain a kind of background character, and that would create a unique tone, actually, and would make me intrigued to continue reading the series if it does.
Continue reading →
Filed under: Marvel Comics | Tagged: Agent Coulson, Andrew Hennessy, Bruce Banner, Hulk, Maria Hill, Mark Bagley, Mark Waid, Marvel, Marvel Comics, S.H.I.E.L.D. | 4 Comments »