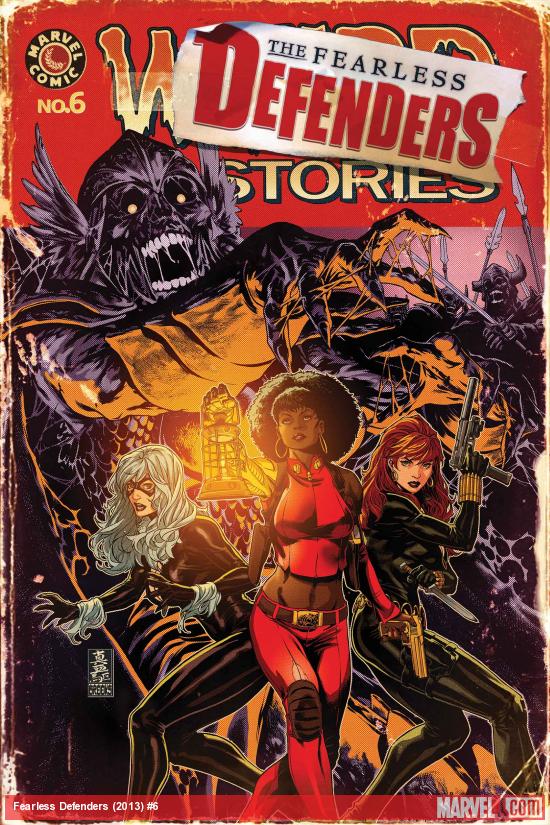 By: Cullen Bunn (writer), Will Sliney (artist), Veronica Gandini (colorist)
The Story: Valkyrie kills the Marvel Universe.
The Review: Having largely dealt with the threat of the Doom Maidens, battle-mad eldritch-warped valkyries, Marvel's new team of Defenders find themselves up against the wall when Brunnhilde, the heroine known as Valkyrie, becomes their commander. We get some teasing history on the Doom Maidens and how they came to be, as the new Valkyrie wipes the floor with half the heroines in the Marvel Universe.
If you're looking for superhero action on a larger scale, this issue provides. Especially with a heroine playing the role of antagonist, it's pretty amazing to see such powerhouses as Spider-Woman and Captain Marvel tossed around like rag dolls. The stakes are high, and the fighting brutal. Unfortunately, the fight is short, simple, and probably better on paper than…well, on paper. Though the battle between She-Hulk and Valkyrie is a high-point, this contest is simply too one-sided and hopeless to really get the blood pumping. But then, that's not the point of this issue.
Indeed, though this issue features a regular battle royal, it isn't about battle or rage, but a rejection of such things. I won't say too much, but Cullen Bunn is absolutely clear that, to him, this issue is about the interpersonal relationships between these new Midgard Valkyrior.
Admirable as that is, the greatest problem with this issue is that it doesn't dive deep enough. Both the banter during the fight and the pleas for peace that follow are fairly shallow. Worst of all, the climax of the story is unclear, leaving you unsure what happened until it is reported to you. The book appeals to pathos but doesn't put enough heart into it to achieve the epic conclusion it's reaching for.
The pacing is also interesting, off if not necessarily flawed. While I appreciate the greater focus on tone and the aftermath of battle, I'm not sure we need an entire page of Valkyrie climbing stairs. Likewise, the book's many flashbacks and visions of the future are interesting, but a trifle unclear, which naturally begs the question of why so many were included in a book that could have so benefitted from a little more time to focus on fallout of this arc.
Will Sliney's art is similarly mixed. Sliney provides attractive linework, but his inking feels a little heavy at times. Either way, it's hard to fault an artist who is able to draw so many of Marvel's leading ladies with such determination and strength.
Continue reading →
Filed under: Marvel Comics | Tagged: Cullen Bunn, Doom Maiden, Dr. Annabelle Riggs, Misty Knight, Odin, She Hulk, The Fearless, Valkyrie, Veronica Gandini, Will Sliney | Leave a comment »