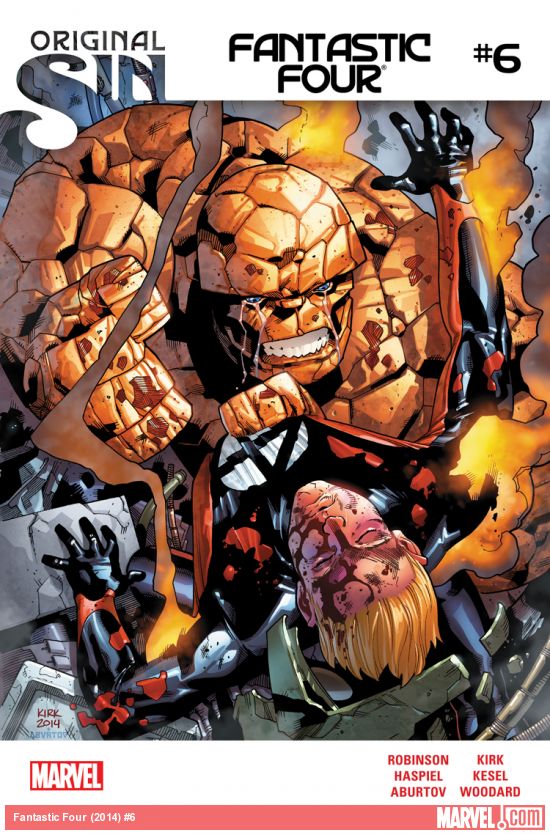 By: James Robinson (Writer), Leonard Kirk (Penciller), Karl Kessel (Inker), Jesus Aburtov and Veronica Gandini (Color Artists), Dean Haspiel & Nolan Woodard (Flashback Artists), VC's Clayton Cowles (Letterer)
The Story:
Susan yells at the Avengers, the kids yell at Hammond, and Ben yells at Johnny.
The Review:
This issue is broken down into four distinct and linear chapters. The first is the Fantastic Four facing the Avengers (six pages), the Future Foundation facing Hammond (one page), the Thing facing against the Human Torch (three pages), and a flashback that details the memory of why Ben is confronting Johnny (six pages.) (Yes, this is counting double-page spreads as one page, which is kind of how things read nowadays on a tablet reader.)
Unfortunately, this kind of compartmentalization, exasperated by having the last compartment in an entirely different artistic style, fragments any kind of momentum for the story. This issue marks six months since the new relaunch, and it seems like the characters are still merely being pushed around, a long-form positioning so they can fit the kind of story Robinson wants to tell, which I hope will be soon. But let's forgo a meta-textual critique and leave Robinson's name out of it. Looking at the in-text narrative, it's still apparent that all the forces coming down on the characters are coming from outside themselves. The FF's troubles are coming from the courtroom (which is still not clear if that was a government action or civil suit, which nonetheless results in government action in-between panels), the Avengers are representing said courtroom's interest, the Camp Hammond kids are complaining about things they overhear other people talking about as well as what other people will be doing to Dragon Man, and the Thing is reacting to a new memory given to him from the Original Sin crossover plot point, in which Reed and Johnny did something to him that we will have to wait until next issue to see.
Yes, there are some moments of clear characterization as these people react to what's put upon them, most notably Invisible Woman with her cry of "won't somebody think of the children" in a double-page spread of impressive display of power. But the ultimately what's happening is that, for at least the second issue in a row, the Four are completely without agency in their own comic with no hint that this will be resolved soon.
Continue reading →
Filed under: Marvel Comics | Tagged: Dean Haspiel, Fantastic Four, James Robinson, Jesus Arburtov, Karl Kessel, Leonard Kirk, Nolan Woodard, Original Sin, Veronica Gandini | Leave a comment »