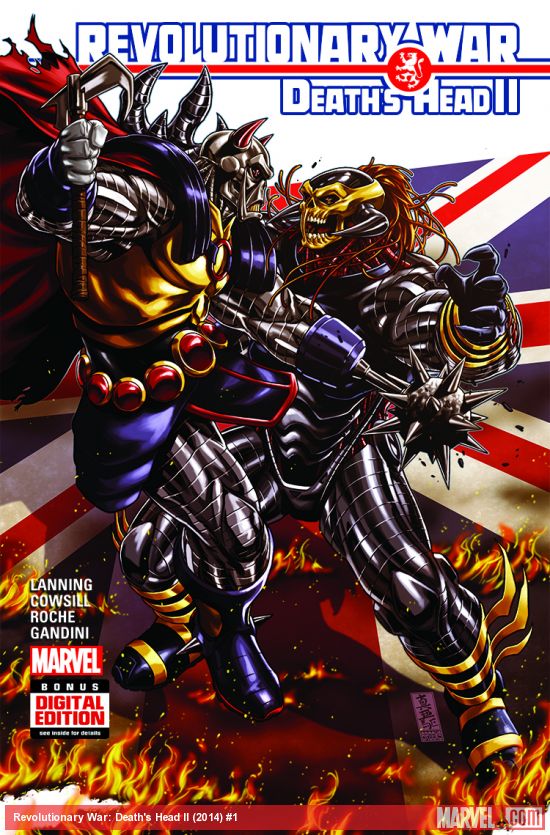 by Andy Lanning, Alan Cowsill (Writers), Nick Roche (Artist), Veronica Gandini (Colorist)
The Story: It might sound wise not to betray and piss off a time-travelling freelance peacekeeping agent, yes?

The Review: There has been a certain re-emergence of Death's Head in the Marvel universe. Thanks to the work of Kieron Gillen in making him a part of his S.W.O.R.D. and Iron Man runs, the vocal and somewhat polite robot made quite an impact in terms of general appreciation. With the Revolutionary War storyline going on, the opportunity to present his history as well as updating him is definitely present, yet can Andy Lanning and Alan Cowsill actually do as nice a job as Gillen when it comes to the freelance peacekeeping agent?
For the most part, the tale does represent a good lot of what is fun with the many versions of the character, with the three different interpretations being reintroduced in this issue. It is by no mean a perfect issue, with some problems plaguing it in some important areas, yet it succeeds in the most fundamental of aspects: fun.
The best thing about this issue is the characterization, with a fast-paced and hilarious attention to the speeches, declarations and actions of both protagonists. Both Death's Head and Death's Head II are similar, yet different in important aspects, showing who's the actual upgrade and how they differ despite their resemblance in terms of approach and quirks. Their interactions, throughout the issue, goes from begrudging respect, comedy and rather neat action which sells that there is definitely room for both in the Marvel universe.
Continue reading →
Filed under: Marvel Comics, Reviews | Tagged: Alan Cowsill, Andy Lanning, Death's Head, Death's Head II, Marvel UK, Mys-Tech, Nick Roche, Revolutionary War, Revolutionary War: Death's Head II, Revolutionary War: Death's Head II #1, Revolutionary War: Death's Head II #1 review, Veronica Gandini | 6 Comments »