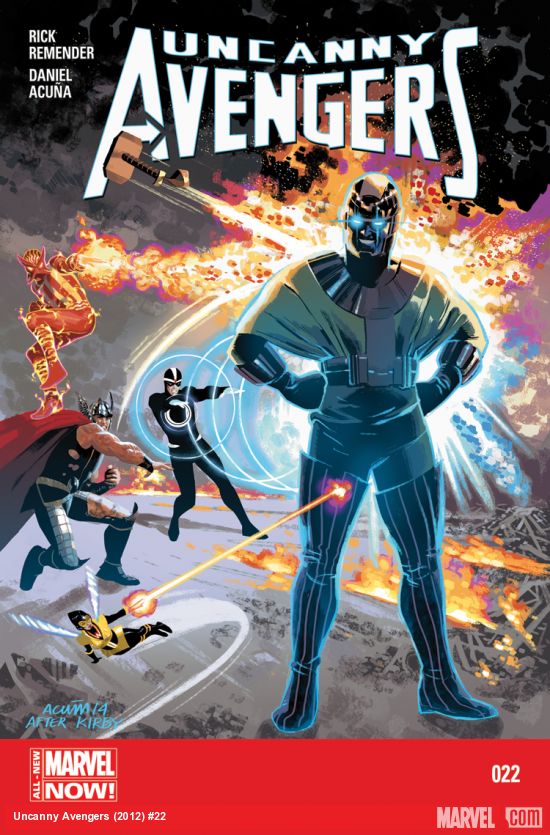 By: Rick Remender (Writer), Daniel Acuña (Artist), VC's Clayton Cowles (Letterer)
The Story: If you punch Kang in the face enough times, he'll go away.
The Review: This is the final chapter in the "Avenge the Earth" arc, one that culminates all the set-pieces of characters past, present, and future in a titanic battle to save the universe from Kang. Also culminating is the epic tone created by the high stakes and personal sacrifices from various members. It all makes for a satisfying read that feels more like an "event" then any of the tentpole series that actually market themselves as such.
The plot is not necessarily surprising. We knew from the beginning (and from its reveal last issue) that Kang was orchestrating a plan that spanned decades, and of course we know our heroes will win. The focus on this issue is the knuckles-to-face brawl that will make it happen. Largely this all falls on Havok, who goes toe-to-toe with Kang and does not survive unscathed. There's a personal stake in this because of his daughter, which is lost to him accordingly, along with some significant battle scars. Other heroes will be affected by the battle, too, namely Wasp, Rogue/Wonder Man, and Sunfire.
The pacing of this ultimate fight is done well, a pacing reinforced by the art. Havok often takes several panels to work through his progression of thought, and also the progression of throw-down. What's a little more ineffective is the sizing of the panels; for example, in one panel Havok looms large as he rears back to deliver a blast of energy, but the actual release of energy is shown in a panel barely one eighth of the page, in a landscape view that must be the shoulder of the Celestial but doesn't register well. For such a momentous blow both literally and plot-wise, it's an underwhelming choice of layout. Similarly, when Sunfire destroys the villains' spaceship, it's sequence is interrupted by two panels of villains' dialogue as well as a page turn, disconnecting the event visually, and the final explosion is in the background of a panel on the lower sixth of a page.
Filed under: Marvel Comics | Tagged: Avengers, Daniel Acuna, Rick Remender, Uncanny Avengers, X-Men | Leave a comment »