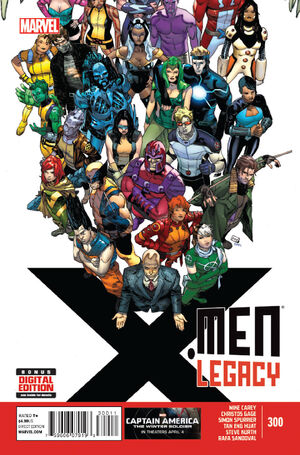 by Simon Spurrier, Mike Carey, Christos Gage (Writers), Tan Eng Huat, Steve Kurth, Rafa Sandoval, Craig Yeung, Allen Martinez, Jordi Tarragona (Artists), Jose Villarrubia, Rachelle Rosenberg, Ulises Arreola (Colorists)
The Story: It can be hard to make an impression when your very powers prevent you to do so.
The Review: I have to confess this issue confused me when I looked at the cover and the very concept of what it was supposed to be. Here was a book that starred three different characters, each having their own impact, their own cast and their own message, as done by the three writers that defined their very goals and concepts. The problem, though, was the fact that each of the characters that had been the protagonists of this book are now, let us say, in a problematic position of non-existence. With none of these characters actually there to advance the story or celebrate the title, how exactly could this issue manage to get to the point?
Enter Forgetmenot, a mutant with the power of getting no attention and being erased from the memory of those he previously met. Focusing the story on this unknown X-Man, all three writers are able to pinpoint a certain era where they wrote their character, inserting this particular one into the narrative. Essentially telling some important moments through the eyes of a character that no one can remember, does the issue actually manage to celebrate the very legacy that is included in the title?
The answer is not only a resounding yes, but one filled with a certain joy at seeing an experiment succeeding in a way that feels satisfactory. What makes this work very well, though, is the actual character of Forgetmenot. His powers and how he copes with them makes for a powerful message about individuality, but also about advancing through the adversary that is loneliness. His actions, his reactions and his feelings are very human at their core, with a presentation of his struggles that makes him very identifiable for readers. Who hasn't dealt with being alone, be it with an opinion, an effort or a phase? Well, this character has been so through his entire life, making some of his actions all the more touching, yet also easy to sympathize with.
Continue reading →
Filed under: Marvel Comics, Reviews | Tagged: Age of X, Allen Martinez, Christos Gage, Craig Yeung, Forgetmenot, Jordi Tarragona, Jose Villarrubia, Marvel, Mike Carey, Mimic, Mutants, Professor X, Rachelle Rosenberg, Rafa Sandoval, Rogue, Simon Spurrier, Steve Kurth, Tan Eng Huat, Ulises Arreola, Weapon Omega, X-Men, X-Men Legacy #300, X-Men Legacy #300 review, X-Men: Legacy | Leave a comment »