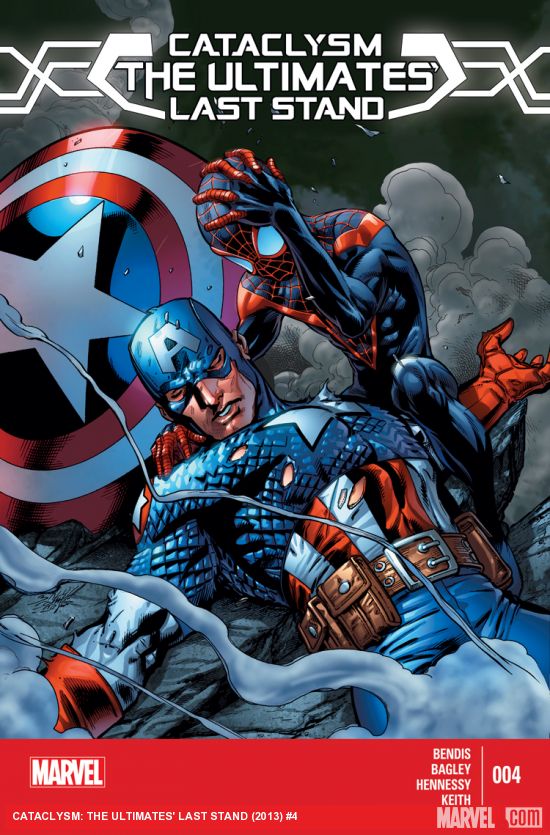 by Brian Michael Bendis (Writer), Mark Bagley, Andrew Hennessy (Artists), Jason Keith (Colorist)
The Story: With Galactus still doing his rather ominous-looking actions, the Ultimates recruits the X-Men to their cause.
The Review: To talk about Brian Michael Bendis is to talk about decompression. While Bendis can be an effective writer when he exploits a situation to its maximum through different angles, he can be somewhat problematic when it comes to pacing. Single issues aren't his specialty, most of the time, with some particularly great concepts being stretched out in order to maximize his strengths. Unfortunately, it does the very same with his weaknesses as well, which can be overly apparent occasionally.
This issue is an unfortunate showcase of the writer's weaknesses, which sadly does not make for a very satisfying issue. Being a transition issue for the most part to set things up for the conclusion, the story in itself moves characters from point A to B, explain a few things to its readers and set up many elements for things to arrive at their narrative peak later. Unfortunately, there are several problems in the execution of this approach that makes this much-less exciting than it could be.
The first thing that Bendis does right, yet not in the best of way, is to set up some kind of plan and use the characters in order to move things along. Doing so at a frantic pace, the readers are reintroduced to the X-Men as well as to the potential manner in which the Ultimates might confront Galactus. Presenting many facets of their plans and somehow explaining the gist of it in a rapid manner, there is little to no time given for the possible implications, be they moral, scientific or to show how many of the characters might react or feel about the many possibilities offered by the plot and decisions therein. In its quickness, Bendis unfortunately dazzles through the more interesting tidbits which could have made this story much more exciting, treating most of the characters as set pieces more than actual persons with problems, traits and what-not.
The other problem that the comic face is the fact that nothing really does happen here. There is an explanation and a plan at the beginning, some very few moments for characterization and then a good amount of action, all leading to the same conclusion as the previous issues: they need to do something or their world is screwed. There is a lack of accomplishment or surprising twists that makes this rather slow, but also rather safe, with close to no consequences being actually presented for the readers to enjoy. The sensation of cataclysmic events is well done, but it comes at the sacrifice of the characters and the story in general.
Continue reading →
Filed under: Marvel Comics, Reviews | Tagged: Andrew Hennessy, Brian Michael Bendis, Cataclysm: The Ultimates' Last Stand, Cataclysm: The Ultimates' Last Stand #4, Cataclysm: The Ultimates' Last Stand #4 review, Galactus, Jason Keith, Kitty Pride, Mark Bagley, Marvel, MIles Morales, Reed Richards, S.H.I.E.L.D., Storm, Susan Storm, Ultimate Universe, Ultimates, X-Men | Leave a comment »