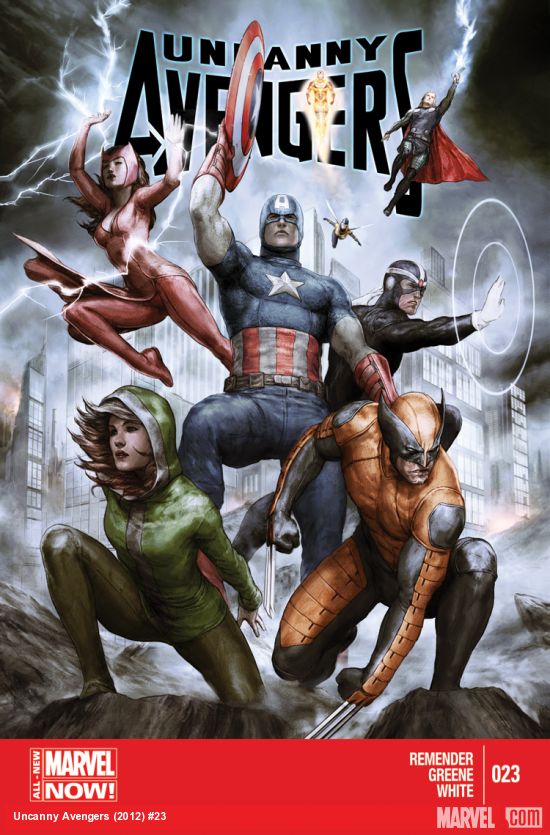 By: Rick Remender (Writer), Sanford Greene (Penciller), Dean White (Color Artist), VC's Clayton Cowles (Letterer), Agustin Alessio (Cover Artist)
The Story: Whaddya know? Sometimes stories that say they were an event that "changes everything" actually do change pretty much everything.
The Review: The previous run on Uncanny Avengers could rightly be described as "epic," and as I opened this issue, I was consciously hoping that we could get a more "downtime" story, as characters felt their way around its fallout and their new status quo. Thankfully, this issue was exactly what we needed.
Interestingly, the story begins a few weeks past the denouement of last issue, in case fans needed to reconcile whatever jumbled continuity got created by that a year-long story. What follows for 95% of the issue is really just characters talking to one another, but they treat each other as comrades-in-arms, as fellow veterans, as friends (or even more) as appropriate. The events of their time-traveling epic may have been erased, but that doesn't mean they never happened, and these people have to deal with that.
Immortus, whose role in the previous arc was somewhat tenuous and thus relatively a weak link in an otherwise dense plot, shows up to offer, of all things, encouragement and promise, as long as they deal with the Red Skull, a teaser for the upcoming storyline and segue into an ominous Skull-focused cutscene. It's an effective scene, taking the heinous Skull and matching him to the equally-heinous Ahab, throwing them both into Genosha. This is "high concept" that works, since there's an immediate tension and horror-tinged atmosphere to lead into next issue.
Filed under: Marvel Comics | Tagged: Avengers, Dean White, Rick Remender, Sanford Greene, Uncanny Avengers, X-Men | 6 Comments »